When A Power-Packed Paul Litjens shot broke Vasudevan Bhaskaran's stick and went into Indian goal at 1979 Esanda International Tourney
It was around the month of April that the Indian men's hockey team featured in the 1979 Esanda International Hockey Tournament that was played at the Commonwealth Hockey Stadium at Perth, Australia. The Indian team, captained by Ashok Kumar, finished fifth in the tournament that featured hosts Australia, Netherlands, Pakistan, Great Britain, New Zealand, France, Canada, Kenya, and Malaysia. The Blueshirts, who had two legends in Dharam Singh and Leslie Claudius as coach and manager, came to the tournament with more of a development side with many seniors calling time on their international careers after the 1976 Montreal Olympics.
Read When Ajinder Kaur-captained Indian eves fell short at the doorstep of a medal at the 1974 World Cup
Skipper Ashok Kumar spearheaded the forwardline alongside centre-forward Sukhbir Singh Grewal, Syed Ali, Maharaj Krishon Kaushik, Mervyn Fernandes and Suresh Mehta. Vasudevan Bhaskaran manned the midfield alongside Papu Sarkaria, Roger Maggie, and Jaswinder Singh. The deep defence responsiblity was shouldered by vice-captain Surjit Singh and newbies Vineet Sharma and Rajinder Singh Senior, with Allan Schofield, and Olympio Fernandes protecting the Indian goal.
Read Former Hockey Stalwart Gurbux Singh Recounts India Winning the 1962 Ahmedabad Invitational Tournament
India's campaign did not began on a great note as they went down to the Netherlands 3-6 – a brilliant Surjit Singh hat-trick was not enough to stop the rampaging Dutch. India put up a fighting performance against the hosts Australia in their second tie and even lapped up a 2-0 lead, with skipper Ashok Kumar spelling trouble for the Kookaburras with his brilliant showing but they squandered a two-goal cushion to go down 2-3. Surjit Singh scored a brace for India. Ashok was also at his best in the first game against the Netherlands and he received back-to-back Man of the Match awards for his performances against the Dutch and Australia.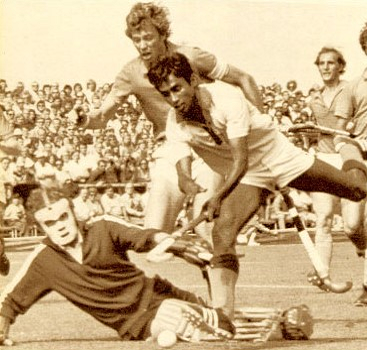 Read Stalwart Eliza Nelson Recounts How India Nearly Missed Out on Podium Finish at 1980 Moscow Olympics
India were backs to their wall in their third game against France as they trailed 1-2 at half-time but India struck thrice in the second half riding on goals from Sukhbir Singh Grewal, Syed Ali, Maharaj Krishon Kaushik, Mervyn Fernandes to pull off a come-from-behind 4-2 win. India rounded off their league engagements with a resounding 7-3 win over Canada with a brace from Sukhbir Singh Grewal and Surjit Singh – Vasudevan Bhaskaran, Ashok Kumar and Syed Ali scored the other goals for India. The Blueshirts thumped New Zealand 5-3 in the 5-6th place classification tie. "We had a depleted side for the 1979 Esanda International Hockey Tournament – many players like Ajit Pal Sigh had retired. We fought hard in the tourney opener against the Netherlands but lost. We had a great opportunity to beat Australia but we frittered away a 2-0 lead. I have good memories of these two games as I was awarded the Man of the Match twice but these things did not matter to me as team winning was more important than anything else," says Ashok Kumar in an exclusive chat with Hockey Passion.
Read When Ajit Singh Scored the Fastest Olympic Goal at Montreal in 1976
Kumar traces memories how a photo of him alongside Surjit Singh was published in an Australian newspaper. "I cannot recall which newspaper it was but clearly remember a photo of Surjit and me was published in a newspaper based out of Perth."
Vasudevan Bhaskaran reminisces playing in the 1979 Esanda International Hockey Tournament. "I thought India-Australia was a close game and a late goal did us in. Aussie had a formidable outfit with the likes of captain Ric Charlesworth, Terry Walsh and Barry Dancer. I remember Terry Walsh scored twice against us and denied us a win," he says in a chat from Chennai.
Read Anecdotes Galore: Harcharan Singh Relives 1975 World Cup Glory
Bhaskaran shared an interesting anecdote about the Netherlands game. "Paul Litjens was a powerfully-built Dutch penalty corner hitter and fullback, who was in great form in the tournament. He scored one goal against us – it used to be a leather ball in those days unlike the Kookaburra ball used on Astroturf in modern hockey. I was the last man standing in the post but Litjens packed so much power in his shot that it broke my stick and went in."
Read When Wrong Knee Injury Treatment Brought Abrupt Halt to Charles Cornelius' Promising Playing Career!
Fullback Vineet Sharma recalls how tough it taking penalty corners with the leather ball. "The weather conditions were hot in Perth – the leather ball gets heavy on Astroturf with water sprinkled over it and it was quite a challenge to hit from short corners for any player." Sharma remorses not beating Australia after leading 2-0. "It was disappointing to lose after having a two-goal cushion. We could have won that match or at least settled for a draw and made it to the semifinals."
Read When India Beat Japan 5-0 Without Actually Scoring a Goal!
For the stats-minded, India's arch-rivals Pakistan was in blazing form as they won the 1979 Esanda International Hockey Tournament, beating Australia 4-2 in the final – they won all their matches scoring a total of 33 goals in six games, including a 5-2 semfinal win over the Dutch. Pakistan won the Esanda Tourney beating Australia 4-2 in final, Dutch 5-2 in semis – pool stage they beat Malaysia 9-0, Great Britain 5-3, Kenya 5-0, New Zealand 5-1 – scoring a total 33 goals in 6 games conceding 8 goals.