Former Indian Forward Jyoti Sunita Kullu Relives 2002 Manchester Commonwealth Games Glory
Commonwealth Games Trip Down Memory Lane
The 2002 Manchester Commonwealth Games gold-winning feat is perhaps one of the biggest moments of Indian women's hockey. The Indian hockey eves wasn't probably considered good enough to go all the distance after their fourth-place finish at the 1998 Kuala Lumpur Commonwealth Games. To be honest, not many would have put their 'money' on the Blueskirts, especially if their pool phase performance was anything to go by – the Indian women dished out a sloppy solitary goal win over Canada in their tournament opener, and then went down tamely to New Zealand 1-3 before playing out a 1-1 draw against hosts England.
Read Indian Hockey Eves Need to Set their House in Order Ahead of Commonwealth Games
The Gurdial Singh Bhangu-coached Indian outfit raised their game by several notches at the business end of the tournament – the Indian women appeared to be taking an early flight back to India when they trailed South Africa 0-3 at half-time in the quarterfinal, but a resurgence of some magnitude saw them claw their way to even up things up 3-3 before winning in extra via the golden goal route. Indian eves looked a transformed lot when they squared up against the Black Sticks in the semifinals and vanquished them 2-1 to seal their final passage, where they upset the applecart of hosts England, riding on a golden goal in extra time from Mamta Kharab to win 3-2 amidst celebrations in the Indian camp.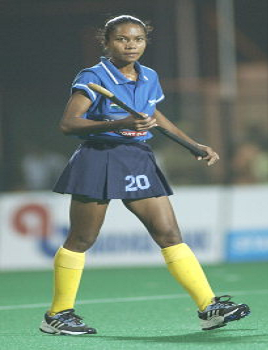 Read All You Want To Know About Women's Commonwealth Games Hockey
Twenty years down the memory lane, former Indian centre-forward and one of the key architects of the 2002 Manchester Commonwealth Games gold-winning team, Jyoti Sunita Kullu puts forth her perspectives on that stupendous run in Manchester. "Our team had a good blend of youth and experience – the likes of Pritam Rani Siwach, Sita Gossain, Surjalata Devi and Manjinder Kaur lend solidity to our side. Our performance in the league stage wasn't much to write home about," Jyoti says in an exclusive chat with Hockey Passion.
Read Indian Women Hockey Top Goal-Scorers in Commonwealth Games
The former Indian women's hockey team captain with 179 internationals under her belt, recounts the ups and downs of the quarterfinal against South Africa. "Many folks must have switched off their television sets after seeing us trail 0-3. Our coach Bhangu sir told us during the half-time break when we were trailing 0-3 to treat the next 35 minutes as a final and go for broke. Pietie Coetzee scored two goals for South Africa and the team was very tense but we fought really well in the second half to stretch the match into extra-time, where I scored the golden goal, deflecting home a power cross from Pritam Rani Siwach," she reminisces those heart-stopping moments from Manchester.
Read Captains and Coaches of Indian Women Teams in Commonwealth Games
Jyoti, who was India's top goal-scorer at the 2002 Manchester Commonwealth Games (4 Goals), has vivid memories of her goal against New Zealand in the league stage. "I darted down the centre and dodged past five New Zealand players before beating the defences of New Zealand goalkeeper Helen Clarke. But New Zealand equalised close to half-time and struck twice in the second half to get the better of us. This goal gives me a special feeling even today," Jyoti gets exciting recalling those moments.
Currently employed as Chief Office Superintendent at Rail Coach Factory (RCF), Kapurthala, Jyoti still remains bitter about the semifinal against New Zealand where she was denied an opportunity to take the penalty stroke by English umpire Dawn Henning. "It was a misunderstanding on the part of the English umpire. I was waiting for her to blow the whistle to take the stroke but she probably thought that I was delaying the stroke-taking process. The umpire subsequently blew the whistle for a free-hit much against out frustration," quips Jyoti. Interestingly, it was Jyoti, who had equalised for India in the second half before Mamta Kharab churned out the match-clincher in the closing stages of play after Suzie Pierce gave New Zealand an early lead.
Read All You Want to Know About Men's Commonwealth Games Hockey
Jyoti, who played for India from 1996 to 2006, throws light on the anxiety the team endured when Mamta Kharab scored the golden goal off a shortie in extra time. "We did well to weather their early resistance and took a 2-0 lead but England rebounded to level things at 2-2. I still remember when the final result was not declared for 5-10 minutes when Mamta Kharab scored the golden goal off a shortie in extra time. Australian umpire Ashton Lucy disallowed the goal on the grounds that it was scored after the hooter for the end of the first half of extra time went off. She altered her decision after discussions between the two field umpires and ruled that the ball had not gone out of the circle after the penalty corner was taken and according to rules play was still on even after the end of time," she says.
Read After Robust Pro League Performance, Indian Men Must Believe Commonwealth Games Glory is Within their Grasp!
Jyoti, who made her senior international debut at the 1996 Indira Gandhi Gold Cup in New Delhi, played her last international game during the 11-12th play-off tie against South Africa at the 2006 Madrid World Cup, where she scored the match-winner for the Blueskirts. The former striker remains busy with her RCF job and is happily married to Martin Ekka and has a doting six-year-old daughter, Alisa Ekka.