Asian Champions Trophy Reality Check for India
It was a tournament India entered as overwhelming favourites – their Olympic bronze medal achievement would have left even their ardent hockey lovers believing that the 6th Asian Champions Trophy would be a cakewalk given the yawning gap in world rankings between India (3rd) and other participating teams – South Korea (16th), Japan (17th) and Pakistan (18th). But the Asian Champions Trophy reinforced the fact that rankings don't count much in international hockey – more importantly, rankings don't really reflect behind-the-scenes improvements made by lesser-known or lower-ranked sides during their training drills.
Read Graham Reid Win-Loss Record as India Coach
India's tournament opener against South Korea was one classic example – the Blueshirts were in control of the proceedings for nearly three quarters before a bout of loose defending allowed the Korean to strike twice to deny India a win that looked inevitable for the most part. Barring hosts Bangladesh, all other teams fought hard and never quite exuded an impression that it was one-way traffic for India. One can argue India's 6-0 win over Japan but can we overlook the fact that Japan kept attacking the Indian territory despite leaking goals? It was sheer poor finishing that let them down.
Read Dilpreet's Hat-Trick: 6th Instance of Indian Scoring Hat-Trick in Asian Champions Trophy
One saw two different templates of India in the tournament – in the pool stage they were up against teams that were ready to fight hard and India seemed to have answers to the questions posed by the opposition. At the business end of the tournament (in the semifinal and bronze medal play-off tie) what was evident was India pressing the jittery button or running out of ideas when both Japan and Pakistan went ahead of us. In fact, the Japan semifinal showed why it is so crucial to start on a strong note and reputations don't matter and by the time India could settle into their strides, they were down 0-2 as Japan unleashed mayhem, forcing as many 5 penalty corners in the first two minutes of play.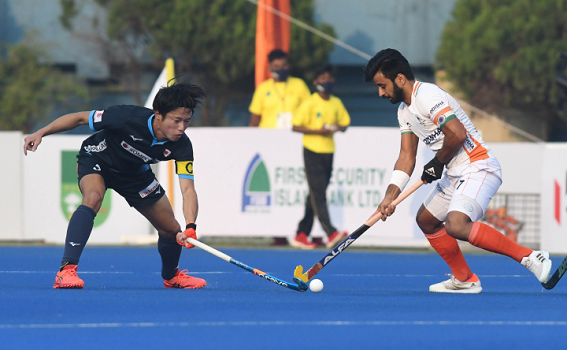 Read All You Want To Know About Men's Asian Champions Trophy
Of course, coach Graham Reid did a lot of tinkering with the side to test its bench strength for bigger battles ahead, which is understandable. The vulnerabilities of India's deep defence came to the fore in almost every game and a lot of stock-taking should happen to correct wrongs because in bigger battles top teams are going to make us pay heavily. Harmanpreet Singh has been the shining light of our defence – he displays a fair degree of consistency scoring from short corners, even in pressure situations. Harmapreet is not just about PC scoring alone – his ball distribution, tackling, and the way he overlaps and helps the forwardline is indeed praiseworthy. Take Harmanpreet out of the equation and our defence now minus retired Rupinder Pal Singh and Birendra Lakra were at sixes and sevens in the face of an opposition onslaught. Indian defence was guilty of ball-watching – the likes of Varun Kumar, Gurinder Singh, and Dipsun Tirkey need to work on this area.

Read Stats File – 6th Men's Asian Champions Trophy
The over-reliance on Harmanpreet for PC goals is also not comforting – with Amit Rohidas (his first-rushing skills also) expected to be in the side for the Pro Hockey League and Varun Kumar having the PC potential, this department should be well looked after. It won't be a bad idea to induct the likes of Junior World-Cuppers – Sanjay and Araijeet Singh Hundal in the senior team for the Pro Hockey League. Having Araijeet will be a bonus because he is a rare drag-flicking forward like Belgium's Tom Boon and can only boost our PC and forward departments.
Read Japan Exuding Immense Promise to be Asian Hockey Powerhouse
Indian PC conversion must look more or less satisfactory with Harmanpreet in full cry but the team was hit was crippled by poor PC injection. Hardik Singh, Shamsher Singh, and Dilpreet Singh messed up PC opportunities with poor injection – even ball stopping during PCs leaves a lot to be desired. Hopefully, the team will work on these areas ahead of the Pro Hockey League.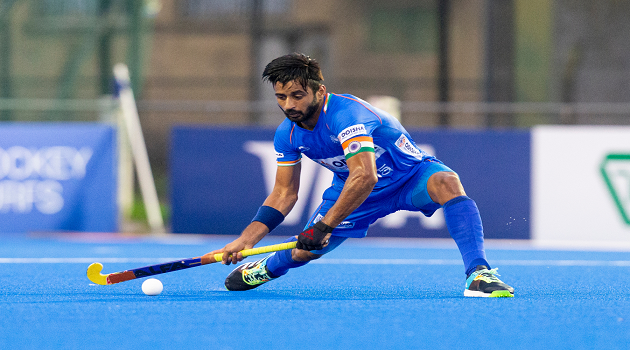 Read How 'Competitive Quotient' in India-Pakistan Matches Has Diluted Over the Years
With Junior World Cup captain Vivek Sagar Prasad expected to be called up for the Pro Hockey League, the Indian midfield will wear a formidable look alongside skipper Manpreet Singh and rapidly-improving Hardik Singh and Shamsher Singh. The emergence of Jarmanpreet Singh will further bolster the midfield – he had a great Asian Champions Trophy not just because he scored three goals, including an eye-watching Tomahawk against Japan but because of his overall utility to the side – the way he hustles opposition players out of their strides and engages in neat interceptions.
Read How Organizers Overcame Challenges Conducting 6th Women's Asian Champions Trophy
Comeback man Akashdeep Singh (after Olympic axing) put up a performance that will do a lot of good to his confidence and international career. His sublime ball distribution skills stood India in good stead and more importantly, he scored an insurance goal in the bronze medal play-off tie, where Pakistan could have sneaked in a late goal and stretched the contest into a shootout, where it could have been anybody's game. Indian forwardline seemed to have fewer headaches, unlike our deep defence. Dilpreet Singh and Lalit Upadhyay were consistent throughout the tournament. Shilanand Lakra may not have scored any goals but looked extremely promising for the future. He was consistently doing the goal-creator role to perfection and one saw how he set up goals for Dilpreet and Shamsher in our 6-0 win over Japan in the pool stage. Goal-creators often don't get due credit as goal-scorers and the youngster's performance bodes well for the future.
With the trio of Simrajeet Singh, Mandeep Singh, and Gurjant Singh likely to be called for the Pro Hockey League, India now have a problem of plenty, which is a good augury for the future. How can we miss mentioning our goalkeepers – Suraj Karkera and Krishan Pathak? The due has been serving as an understudy to PR Sreejesh for a long time, seized their opportunities, and came out winners! Suraj was one reason why Japan was denied from scoring in their 0-6 pool tie defeat. No wonder, he was adjudged the Best Goal of the Tournament.
The Indian team did many things right in the 6th Asian Champions Trophy but they must learn from their on-field blunders that reduced the Olympic bronze medallist to being an Asian Champions Trophy bronze medallist, when gold was there for the taking. One is not trying to be critical of the side because the team had the ammunition required to vanquish the challenge of Pakistan, Japan, and South Korea to corner glory in Dhaka.