FIH Nations Cup: Indian Women Have One Foot in Semifinal
The Indian women's hockey team put one foot in the semifinal door of the inaugural FIH Nations Cup prevailing over Japan 2-0 at Estadio Betero in Valencia. Much like their tournament opener the Indian eves churned out an early go-ahead goal against Japan when Salam Tete darted down the left and rifled in a powerful shot that breached the defences of Japanese goalkeeper Eika Nakamura.
Read FIH Nations Cup: Indian Women Make the Right Noises Against Chile in Tournament Opener
It was Salima's seventh goal of the year – a slender lead Indian held onto till the half-time break. The field goal was the lone bright spot in a scrappy Indian performance that was conspicous by poor short corner conversion. One is not sure if back-to-back games took a toll on the Indians but they looked uninspiring. Salima and Lalremsiami spearheaded the Indian forays even as the likes of Vandana Katariya and Navneet Kaur had a quiet game – however, the young Jharkhand duo of Sangita Kumar ad Beauty Dungh Dung gave a good account of themsleves.
Japan coached by former Indian goalkeeper Jude Menezes, struggled to match the Indian counters and if not for a flurry of missed chances, they should have been ahead by a few more goals than the 1-0 scoreline at the break. Beauty Dung Dung, who made her senior international debut against Chile, doubled the lead when she scored a sizzling individual goal in the third quarter, outsmarting Oikawa Shihori and Sara Yoshthara with deft stickwork before wrong-footing Eika Nakamura.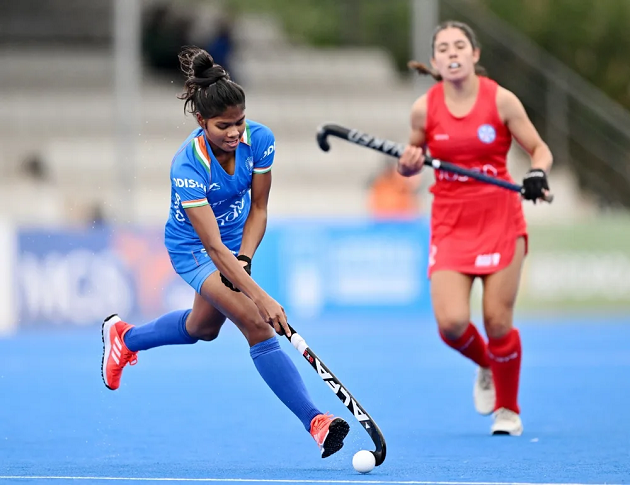 The second goal was some relief for the Blueskirts, who messed up several set-pieces. Japan kept themselves in the game when Rui Takashima came up with a fine tap-in goal in the final quarter to halt India in their tracks. Japan nearly equalised off a shortie, but Monica Malik produced a brilliant goalline save even as Savita was beaten all ends up. India closed out the closing moments to win by the odd goal in three.
This was the third India-Japan meeting in 2022 – India won 3-1 at the World Cup and had lost 0-2 at the Asia Cup. It does appear that India could run into Ireland in the semifinal, while hosts Spain could square up against Japan.
Images: Courtesy FIH