When India Rode on Jude Menezes' Shootout Heroics to Beat Pakistan and Win the 2001 Prime Minister's Gold Cup at Dhaka
Twenty-one years ago (March 21, 2001, to be precise) at the Moulana Bashani National Stadium in Dhaka, the Indian men's hockey team exuded a resurgence of some magnitude to twice come from behind to hold arch-rivals Pakistan 3-3 in regulation time before going on to outduel them in a thrilling shootout to win the 9-Nation Prime Minister's Gold Cup Tournament 6-5 (3-3). It was a match where fortunes fluctuated wildly – The Indians were left to do the 'catching-up' after Muhammad Sarwar scored a first-half goal for Pakistan. Radhakrishnan appeared to take the game away from the Greenshirts scoring twice in two minutes, and when it seemed like India would go into half-time with a one-goal advantage, Muhammad Sarwar equalised to ensure it was even stevens at the break.
Read How Japan Eves Has Emerged as Strong Asian Hockey Powerhouse Under Indian Coach Jude Menezes
The high-octane encounter saw Muhammad Nadeem put Pakistan ahead again with a 60th-minute strike. It looked all over the bar shouting for India until Dilip Tirkey profited from a penalty corner two minutes before the final hooter to stretch the contest into extra-time, which failed to breach the logjam. The onus was on Indian goalkeeper Jude Menezes to stand tall for his team and he did not disappoint one bit, pulling off some crucial saves to help India corner glory in Dhaka. Jude churned out a superb save off Mohammed Sarwar after Sohail Abbas slammed it wide as India held a 2-0 advantage with captain Baljit Singh Dhillon and Arjun Halappa finding the target. The nerve-jangling shootout saw Pakistan regain the advantage as Haider Hussain and Waseem Ahmed converted even as Inderjit Singh and Prabhjot Singh messed up their shootout opportunities. The Indian men's team had swept past Scotland 5-1 in their tournament opener before going on to whip Japan 3-1, edge out hosts Bangladesh 2-1 and hammer Egypt 8-0 to set up a final date with Pakistan.
Read Ex-India Goalkeeper Jude Menezes Excited About Taking Over as Japan Hockey Eves Head Coach
The scoreline read 2-2 with both teams heading for the last round of strokes – Going for the final stroke for Pakistan, Muhammad Nadeem's stroke grazed the post and sailed wide – this meant that Daljit Singh Dhillon – younger brother of skipper Baljit Singh Dhillon – needed to score for India and he converted calmly, sending the ball to the roof of the net triggering wild celebrations in the Indian camp. Jude Menezes – one of the chief architects of India's famous win over Pakistan strolls down the memory lane in an exclusive chat with Hockey Passion. "It's been 21 years but I still have vivid memories of that final against Pakistan. I was stressed the night before as every India-Pakistan game have so much more at stake. Ace Pakistan drag-flicker Sohail Abbas was at his best during that time and defending penalty corners well was of paramount importance," he puts things in perspective.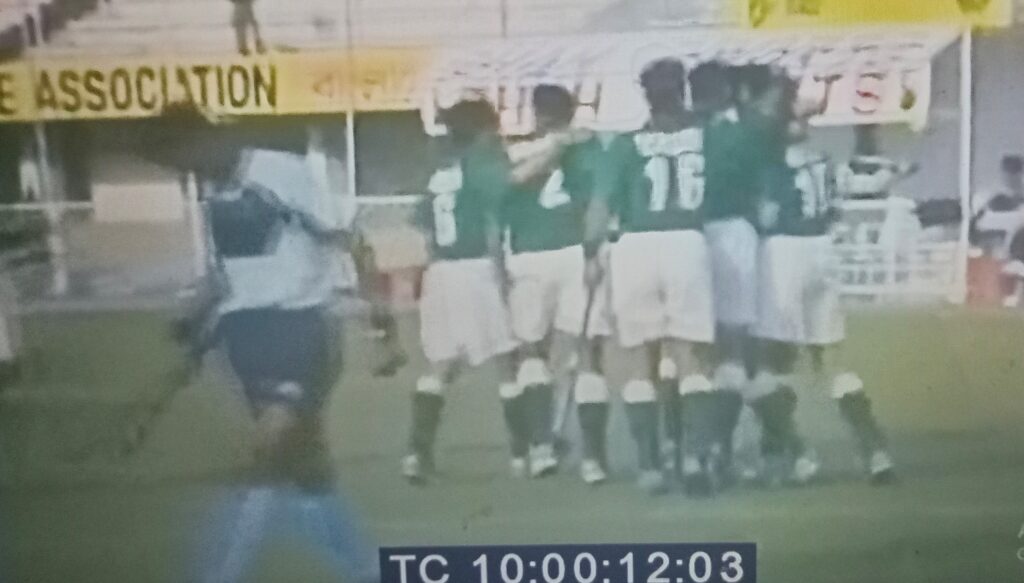 Read Indian Connection to Japan's Women Asian Champions Trophy Glory
The former Indian goalkeeper, who is now the Japan women's hockey team chief coach, recounts how the final game was a spectators' delight."We took the field in front of a partisan crowd in an almost full Stadium and the atmosphere was electrifying. The crowd was thoroughly entertained by both teams. Amidst the pressure of an India-Pakistan game, it was also a pleasure and privilege to witness the high quality of speed and skill execution from both teams, from the best seat in the house," he quips flashing a grin.
Pakistan were a strong side, insists the former Olympian. "Pakistan team had with the likes of Sohail Abbas, Waseem Ahmed, Muhammad Sarwar, Muhammad Nadeem, among others. India had Dhanraj Pillay, Dilip Tirkey, Baljit Dhillon, and myself among the experienced players, while we had a lot of players who had just won the 2001 Junior World cup in Hobart," he recalls.
Read 'Sreejesh can continue playing till 2023 World Cup'
The former Indian goalkeeper, who was the Assistant Coach of the New Zealand women's hockey team at the 2021 Tokyo Olympics, shares an interesting feature of hockey stalwart Dhanraj Pillay during the confabulation. "India had to contend with Sohail Abbas – one of the best exponents of the drag flick at that time, while India had an amazing first-rusher in Dhanraj Pillay – he was easily the best first-rusher I have seen, extremely brave and quick. His outstanding first-rushing skills made my job as a goalkeeper easier as being off-set, I was defending only one side of the goal. Dhanraj made the lives of a lot of Indian goalkeepers easier and has never quite got the credit he deserved for his role in penalty corner defence, he lavishes praise.
Jude reveals his frustration of conceding a short corner rebound goal to Pakistan – a goal scored by Muhammad Nadeem that allowed Pakistan to have their noses in front. "Sohail Abbas flicked low to my stick side, which I saved but the rebound went to our defender, who in turn, played the ball straight to the Nadeem (the injector) and he slotted it home. My frustration was because we kept out the drag-flick but conceded a soft goal off a poor defensive clearance."
He by his own admission was confident in the tie breaker. "I remember telling our coach Cedric D'Souza that I've got this. There was a bit of gamesmanship before every stroke and a few choice words were exchanged. I remember Sohail putting his stroke well wide into the stands. I made a save off Mohammed Sarwar while Nadeem slammed it wide. It was an extremely satisfying feeling for a fairly inexperienced team to hold their nerve and beat our arch-rivals Pakistan in Dhaka," he bubbles with excitement.
Read Lack of Leadership & Communication Visible on the Pitch: Two-Time Olympian & Former Captain Jagbir Singh
Jude pointed out how the Dhake triumph did not get the desired recognition. "There was no self-promotion and no social media during our playing days, so we had to rely on mainstream print media to recognise our efforts. The media coverage was negligible with only 2 or 3 newspapers covering our win. It was extremely disappointing to arrive in Calcutta almost unnoticed and the team then headed off to their respective homes," the bitterness in his voice clearly evident.