How Japan Eves Has Emerged as Strong Asian Hockey Powerhouse Under Indian Coach Jude Menezes
Hockey can be a great leveller. At the 2021 Tokyo Olympics, the Japan women's hockey team cut a disappointing figure, finishing 11th among 12 teams. The Japan eves lost all their league matches in what panned out to be a forgetabble Olympic campaign. But within a span of five months Japan's women hockey team have made a remarkable turnaround, winning two important tournaments from the Asian hockey perspective – Asian Champions Trophy and Asia Cup. These feats only underscore the fact that Japan will be the team to watch out for not just for Asian rivals like India, South Korea, and Japan but also for world hockey at large.
Read Ex-India Goalkeeper Jude Menezes Excited About Taking Over as Japan Hockey Eves Head Coach
Japan led by forward Yuri Nagai, who took charge after Yukari Mano captained the side at the Tokyo Olympics, has been dishing out robust structured hockey on a consistent basis at the Asian Champions Trophy and Asia Cup, which allowed them to take the top spot in these tourneys.
Former Indian men's team goalkeeper and Japan women's hockey team chief coach Jude Menezes puts things in perspective. "Our overwhelming focus has been on instilling discipline in the two circles (their own 'D' and opponents' 'D'). Teams may engage in fancy passing or dribbling but you cannot discount the fact that matches are won or lost in these circles. Our girls exuded strong structure throughout the tournament – we conceded only two goals in the tournaments which tell a lot about our discipline," Jude says in an exclusive chat with Hockey Passion.
Menezes, who had migrated to New Zealand in 2002 after calling time on his international career and went on to serve as Assistant Coach of the New Zealand women's hockey team at the Tokyo Olympics before subsequently taking charge as Japan women's hockey team chief coach, believes the competition between the Asian teams is fierce. "The gap between India, Japan, South Korea and China is very narrow. In my book no Asian team is a clear favourite," says Menezes who represented India at the 2000 Sydney Olympics.
Read Indian Connection to Japan's Women Asian Champions Trophy Glory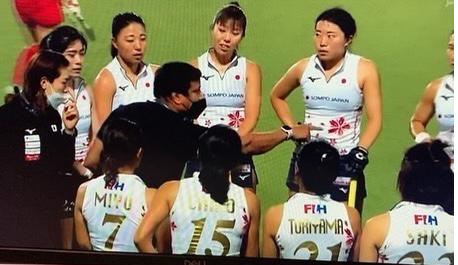 The Japan eves coach rated the Indian side highly despite their 2-0 win over the Blueskirts at the Asia Cup."Indian team have so much flair and there is no denying of that. At the Asia Cup, Indian girls created numerous opportunities but failed to capitalise on them – in fact, Japan created fewer scoring opportunities than India in the league tie but our girls made the most of them," he points out.
The disappointing Tokyo Olympic campaign is a thing of the past and the Japan women' hockey team will be keyed for a blockbuster showing at the big-ticket tourneys such as the FIH World Cup and Asian Games slated to be held later this year. "We have a young side – the average age of the side is 24. Some of the senior players have stepped aside after the Olympics and our transition phase has worked well so far. There is still a lot of work to be done over the coming years and we look to emerge even more stronger for bigger tourneys this year," he fires a parting shot with dollops of confidence.