Ex-Olympian Prem Maya Recounts How Poor Umpiring Hurt India at the 1983 Women's World Cup
The Indian women hockey team's forwardline in the eighties was given a formidable look by the invincible presence of Prem Maya Sonir. The talented Gorakhpur girl brought so much value to the national team's strikeforce as an inside-right. She was part of the Indian eves that finished fourth at the 1980 Moscow Olympics and was also part of the gold-winning 1981 Kyoto Asia Cup and 1982 New Delhi Asian Games teams. She also featured in the 1983 Kuala Lumpur World Cup, and 1986 Seoul Asian Games where the Indian women bagged a bronze.
Prem Maya Sonir started playing hockey at the age of 11 at the Arya Kanya Inter College Gorakhpur. His childhood wasn't exactly smooth sailing – she lost her father when she was just two and it was due to the solid support and encouragement of her mother Budhi Devi that she was able to pursue hockey. Interestingly, hockey was not the only sport she took a liking to – she was good at basketball as well and even represented Uttar Pradesh basketball team in three nationals in 1974, 1975, & 1976. But subsequently she shifted her focus to hockey and featured in her maiden senior hockey nationals at Pune (then Poona) in 1976. Prem Maya made her senior international debut at the 1979 World Championships at Vancouver, Canada against New Zealand – a game India lost 1-4.
At the 1980 Moscow Olympics, Prem Maya scored in India's 4-0 win over Poland and again found the target in India's narrow 1-2 loss to Czechoslovakia. It was the final league game where the Indian eves went down 1-3 to Soviet Union that denied them the possibility of a podium finish. "We played really well against Soviet Union and Rupa didi (Rupa Saini) scored an early goal for us. I think our coach late Kartar Singh made some changes to our defence, especially our mainstay Gangotri Bhandari was substituted. I think these changes in our defence affected our game plan and cost us dearly," says Prem Maya in a candid chat with Hockey Passion.
The confabulation veers towards the Indian women winning the 1982 Asian Games gold medal in front of their home crowd – a tournament where Prem Maya scored in every match. "I still remember it was a round-robin format and we scored 37 goals in five games and conceded just one goal against South Korea," she says bubbling with excitement tracing the fond memories of 1982.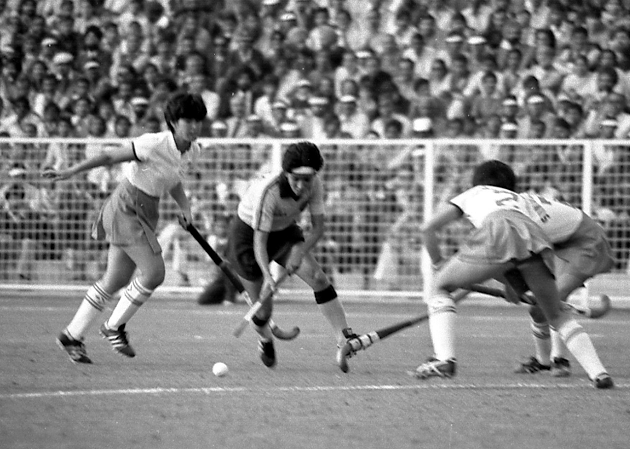 The 61-year-old former striker, who retired as a Sports Officer of Gorakhpur-headquartered North Eastern Railway, dwells on the bitter memories of India's 1983 World Cup campaign. "We were quite a formidable side in the World Cup but poor umpiring played a spoiler. India should won against the Netherlands easily but both umpires from France and Spain were biased towards the Dutch. I can recall Sudha Chaudhary scored an early goal. Every time we moved forward, there would be an infringment whistle from the whistle on some ground or the other. They (umpires) kept awarding penalty corners (around 10-12 of them) and most of them were unfair and we lost the match 1-2," she reasons out.
Prem Maya was a short-corner rusher in that World Cup and the flurry of short corners from the Dutch left her tired. "The barrage of PCs awarded to the Dutch took a lot out of me as I was the first-rusher," she reminisces.
Appalling umpiring robbed the Indians against Australia as well. "Fiona Albuquerque scored two first-half goals to put us in a great position to win the game but umpiring howlers ensured the Aussies were able to mount a comeback. Robyn Leggat scored a final-minute goal in game we could have won or at least settle for a draw," she says with a tinge of remorse. Even at the 1985 Inter-Continental Tourney in Argentina, Indian hockey eves were up against poor umpiring and eventually finished fifth.
Married to basketball player Bachchan Prasad in 1989, Prem Maya has two sons – Ankit and Amrit. Prem Maya talks about how she was taken by surprise as far as the team's captaincy for the 1986 Seoul Asian Games is concerned. "Look, I was leading the national team in the run-up to the 1986 Asiad. Since the captain was not announced even two weeks before the event I was presuming I would be the captain but the federation named Rajbir Kaur as captain just 15 days before the Asian Games. I was fine with the decision as serving the national team was more important for me than anything else," she quips