On The Comeback Trail: Simranjeet Singh
The sight of Simranjeet Singh outsmarting German defender Johannes Grove and unleashing a tomahawk that brooked no answer from Alexander Stradler, will be ingrained in memory for a long time to come – a goal that helped India equalise the 2021 Olympics bronze medal play-off tie against Germany. The 24-year-old attacking midfielder will also be remembered for scoring a nifty deflection goal off a superb baseline run from his cousin and team-mate Gurjant Singh, wrong-footing the likes of Lukas Windfeder and Johannes Grove to provide a much-needed insurance goal (India's 5th goal) in a tension-paced contest.
Read Trying to Learn From My Seniors: Indian Forward Sukhjeet Singh
A product of Jalandhar's Surjit Singh Hockey Academy, Simranjeet made his senior international debut against Japan in the 2018 Four Nations Tourney in New Zealand. He has been forced out of international hockey since India's historic Tokyo Olympics campaign. Laid low by a left knee injury, the Indian Oil-employed player was off the training radar for two to three months. Simranjeet missed playing the Asian Champions Trophy as well as the Pro League Matches against France, South Africa, Spain and Argentina, in all missing 14 games. "I could not train for three months due to the knee injury but it has healed now. I've started training with the team," the soft-spoken attacking midfielder told Hockey Passion in a quick chat.
Read Sizzling Hat-Trick Heralds Jugraj Singh's Arrival on International Stage
Simranjeet's injured-induced absence from the national team has opened a window of opportunity for several youngsters such as Mandeep Mor, Sukhjeet Singh, Abhishek and Jugraj Singh. There is cut-throat competition for places in the national side and Simranjeet remains unperturbed about it. "My job is to focus on my game and do my best for my country. Healthy competition is good for the team – it is not like there was no competition before the Olympics. I'm trying to stay positive," says the Punjab lad who also got married after the Olympics.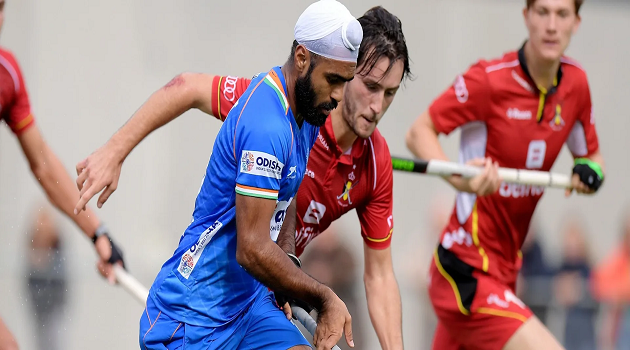 Read India's Young Forward Abhishek Rewarded for Robust Showing in Domestic Tourneys
Simranjeet stopped short of divulging whether he would be available for selection for the upcoming Pro League games against England and beyond. He has scored 16 goals from 52 internationals. It may be worth recalling that Simranjeet was not initially included in the 16-member Olympic squad – he was included as one of the two reserve players (other being Varun Kumar), following the International Olympic Committee's move to allow "alternate athletes" in team events because of the COVID-19 pandemic.