Vandana Kataria: Journey From a 17-Year-Old Debutant to Being India's Most Capped Women Hockey Player!
Vandana Kataria is a vital cog in the Indian women hockey team's forwardline – her eye-popping stick work, clinical finishing and proficiency in pulling off deflection goals in goalmouth melees are a visual treat. The 29-year-old, who hails from Roshnabad village in Haridwar district of Uttarakhand, has indeed come a long way since bursting on the international stage as a 17-year-old, making her senior international debut at the 2009 FIH Champions Challenge II Tournament held at Kazan, Russia.
Read Pro League: High-On-Confidence Indian Eves Will Look to Extend Germany's Losing Streak
As a senior member of the Indian outfit, Vandana now not only has the responsibility to ensure our forwardline delivers but also mentor the bevy of young forwards in the side. The likes of Sharmila Devi, Lalremsiami, Sangita Kumar, Jyoti, Mariana Kujur have so much to gain from her wealth of experience. One has to admire the longevity of this fleet-footed striker, employed with Railway Sports Promotion Board (RSPB) who has several 'firsts' to her credit. Vandana – not many may be aware of, is India's most capped women hockey player with 258 international caps – she became the first Indian women hockey player to reach a milestone of 250 international caps during the 2022 Asia Cup match against Malaysia. 258 international matches over a 12-year international career is a testimony to her consistent performances over so many years. How can hockey fans forget how her hat-trick was instrumental in India securing a 4-3 win against South Africa at the 2021 Tokyo Olympics in a must-win situation for the team to secure a quarterfinal berth.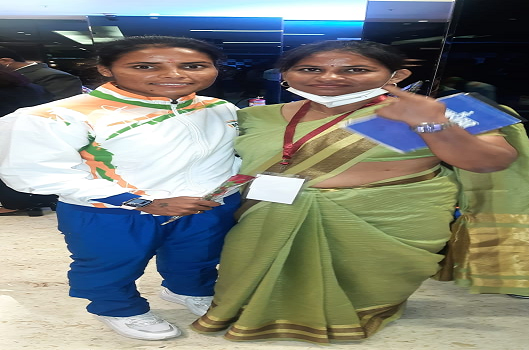 Read
As a youngster, Vandana met with strong disapproval from her neighbours – for a girl to take up sport was not considered appropriate in her Roshnabad village – but her father late Nahar Singh Katariya (himself a former wrestler) encouraged her at all time to pursue hockey. Born to an economically-disadvantaged family, Vandana did not have access to proper training equipment and used to practise with tree branches. Her love for hockey received a shot in the arm when Meerut-based coach Pradeep Chinyoti spotted her and took her under his wings at Meerut. Vandana subsequently moved to Lucknow Sports Hostel in 2005, where she honed her hockey skills under coaches Poonam Lata Raj and Vishnu Sharma. It was during her hostel stint that Vandana grew rapidly through the ranks and received her maiden national call-up for the Indian Junior Team and later for the Senior team.
Read Trying to Learn From My Seniors: Indian Forward Sukhjeet Singh
Vandana shot into prominence in India's historic bronze-medal win in the 2013 Junior Women's World Cup in Monchengladbach, where she was the country's top goal-scorer with 5 goals. She has been part of several successful campaigns of the Indian women's hockey team – she been part of the gold-winning 2016 Asian Champions Trophy team, gold-winning 2017 Asia Cup team, silver-winning 2018 Asian Games team, silver-winning 2018 Asian Champions Trophy team, silver-winning 2013 Asian Champions Trophy team, bronze-winning 2014 Asian Games team among others. Of course, Indian women's 4th place finish at the Tokyo Olympic would also rank high among her successes with the national team.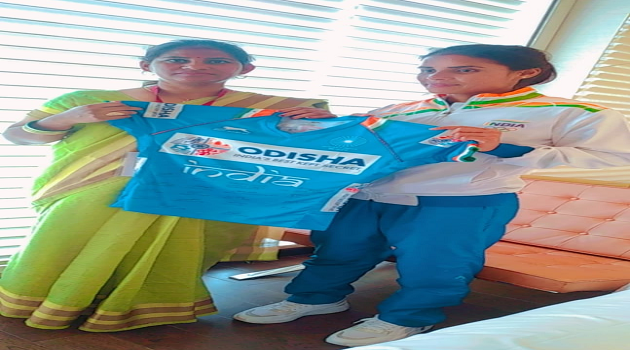 Read How Simdega Accorded Fitting Farewell to Outgoing DC Sushant Gaurav with Hockey Sticks Salute
The nippy two-time Olympian forward was handed the mantle of captaincy in 2016 for the Asian Champions Trophy in Kuantan, and she showed her leadership skills to the full, guiding India to a gold-medal finish. Lucknow Sports Hostel coach Poonam Lata Raj, who has watched Vandana from close quarters at the Lucknow Girls Hockey Hostel puts things in perspective. "I still remember Vandana was around 13 when he joined the Lucknow Sports Hostel along with her elder sister Reena Katariya in 2005. The first impression I had about her was that she was different from others, in terms of talent – she was ahead of the trainees skill-wise," her former coach recounts those days when Vandana was polishing her hockey skills at the Lucknow Sports Hostel.
Vandana's childhood coach said her ward in those days exuded an impression that she will do big on the international stage. "There is not a single practice game in which Vandana won't score during her hostel days. She impressed us with her ball speed and footwork. Vandana has the ability to weave her way a crowded defence in the 'D' and score. She had played her first Sub-Junior Nationals and was soon draft into the Indian Sub-Junior Camp before she went on to make her senior international debut at the age of 17," gushes Poonam.
Read Sangita Kumar: Exciting Prospect in Indian Women's Team Forwardline
The Lucknow Sports Hostel coach has no doubts that Vandana has many years of hockey left in her. "At 29, she is playing the best hockey of her career and is only getting better. I'm sure the kind of recognition and public adulation she has received over time will embolden her to keep working hard and help the Indian women team script more success stories in coming times," she quips.
With many big-ticket tournaments such as the World Cup, Asian Games and Paris Olympics in the pipeline, Vandana will have a key role to play in driving the Indian women's hockey team to newer heights.