Pro League: High-On-Confidence Indian Eves Will Look to Extend Germany's Losing Streak
Three wins in the first four Pro League games and a 3rd spot in the points table ensure 9th ranked Indian hockey eves would have many positives to fall back on when they meet 5th ranked Germany in the double-leg Pro League games. Undoubtedly, the biggest positive has been the stupendous goalkeeping of Indian skipper Savita – time and again she impressively executed the rescue act whenever India appeared to be perilously close to conceding a goal. Just having a brave goalkeeper is not enough – it has to be backed by the fullbacks. Vastly experienced Deep Grace Ekka as well as the young quartet of Gurjit Kaur, Salima Tete, Nikki Pradhan and Udita need to instil discipline in their defence work and complement Savita. More importantly, they must plug gaps in defence as on many occasions Savita was seen ploughing a lonely furrow, foiling raids in one-to-one situations.
Read Sangita Kumar: Exciting Prospect in Indian Women's Team Forwardline
Savita appears to be thriving in her role as the captain of the side (she led the side in all the three tourneys after the Olympics – Asian Champions Trophy, Asia Cup and Pro League). Captaincy is a big responsibility and it is even more challenging if you a goalkeeper, and Savita has ticked most of the boxes so far.
Read 2022 Women's World Cup: India Pitted in Pool B Alongside England, New Zealand, China
The resoluteness of the Indian girls can never be questioned – the way in which they clawed their way back to win the first leg tie against Spain and thrice came from behind only to be done in by a final-minute Xantal Gine goal in the 2nd leg shows this team never believes in throwing in the towel.
Read
The youngsters in the Indian forwardline are making a strong case for themselves – debutant Jharkhand girl Sangita Kumar scored a beauty of a goal on her international debut against Spain – a goal she won't forget for a long time to come even as she made experienced defenders such as Maria Lopex, Beatriz Perex and Lucia Jimenez look like novices. Haryana lass Jyoti is another young forward, who has held out promise. The performances of these youngsters more or less made up for by the injured-induced absence of experienced Rani Rampal.
Read Pro League: India Women Huff and Puff to 2-1 Win over Spain
Navneet Kaur may not have too many goals to show on the scoresheet but her workmanlike effort can never go unnoticed – the Shahabad girl who was impressive during the Tokyo Olympics, has served as a pivot around which our attacks revolved. Vandana Katariya – the most experienced striker – has done her bit and would look to assert herself against Germany.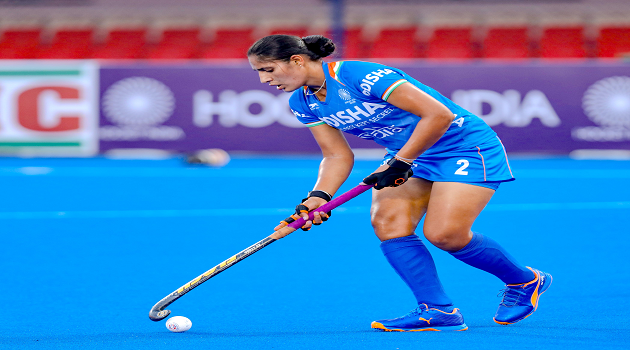 Read Pro League: Spanish Women Outduel India in Nerve-Wracker
Winless in the Pro League (lost their first two ties to Belgium) and languishing at 7th spot in the points table, the Akim Bouchouchi-coached German eves has hit the transition button – something not uncommon for teams after the Olympics. Germany features only three members of the Tokyo Olympics squad in skipper & 22-year-old forward Pia Maertens, defender Maike Schaunig, and midfielder Jette Fleschutz. The Danas are without a raft of experienced campaigners such as Tokyo Olympics captain Nike Lorenz, Anne Schröder, Lisa Altenburg, Charlotte Stapenhorst, Franzisca Hauke, and Cécile Pieper. Interestingly, Nike Lorenz and Anne Schröder had both scored in their 2-0 win over India at the Tokyo Olympics.
Read High-On-Confidence Indian Eves Extends Winning Streak Against China to 8 Matches
Germany will rely on Pia Maertens and Hannah Gablac for field goals as well as on drag-flicker Stine Kurz to make the most of the short corner routines. German goalkeeper Noelle Rother pulled off some incredible saves in the first two games against Belgium and could frustrate India to no end. Having played four games in recent weeks, Indian eves are match-ready, while Germans could be a tad rusty as they have played their first two Pro League games in October 2021. The hosts would be at an advantage but Germans will pull out all stops to hit winning ways after losing the first two games. India, on their part, will strive to exact sweet revenge and perhaps more, in their backyard for their 0-2 defeat at the Tokyo Olympics.