MPHA Bask in Academy National Championship Glory
Hockey academies play a critical role behind the scenes in serving as a steady talent supply line for the Indian hockey team. It is in our hockey academies where precocious talents are nurtured so that they are ready to serve the country with distinction. Madhya Pradesh Hockey Academy (MPHA) has emerged as the most-talked-about academy side after they won both the 1st Hockey India Junior Men Academy Nationals as well as the 1st Hockey India Sub-Junior Men Academy Nationals – both held in Bhopal Madhya Pradesh.
Madhya Pradesh Hockey Academy made the most of playing in front of their home crowd as they won back-to-back national crowns in a span of two weeks. Understandably, former Olympian and MPHA coach Sameer Dad has many reasons to rejoice about. "Winning both the junior and sub-junior Men Academy National Championships is a big thing for MPHA. My boys showed a lot of grit and discipline in both the national championships and I couldn't have asked for more," says Dad in a chat with Hockey Passion from Bhopal.
Dad, who played for India between 1998 and 2003, featuring in the 2000 Sydney Olympics, 1998 Asian Games, and 1998 World Cup, feels that the concept of Academy National Championships is a good augury for the future. "I think Academy Nationals is a great opportunity for talented youngsters, who miss out on a berth in the state side to showcase their talent in such tourneys. Performing in the presence of Hockey India selectors will do a lot of good to the confidence of all the academy players," he pointed out.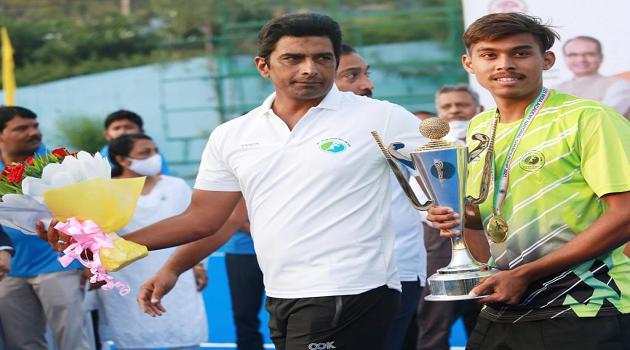 Dad also dwelt on the competitive nature of the Men Academy National Championships. "Matches were one-sided in the initial stages but from the quarterfinal phase every match was hard-fought – it was a case of no quarter was asked for and none was given. MPHA had to fight hard in the knockout phase before going to win the finals," he says.
For the stats-minded, MPHA got the better of Raja Karan Hockey Academy 3-1 in the final to corner glory at the 1st Junior Men Academy National Championships. The MPHA lads earlier this month had put it across Odisha Naval Tata Hockey High-Performance Centre 3-1 in a shootout after both teams were locked 3-3 in regulation time to win the 1st Sub-Junior Men Academy National Championships.
MPHA'S Road to Glory
Junior Men Academy Nationals
(Final) Beat Raja Karan Academy 3-1
(Semifinal) Beat Roundglass Punjab Hockey Club Academy 6-2
(Quarterfinals) Beat Naval Tata Hockey Academy- Jamshedpur 5-1
Beat Tamil Nadu Hockey Academy 9-1
Beat Lakshmi Ammal Sports Academy 9-0
Beat Vadipatti Raja Hockey Academy 10-0
Sub-Junior Men Academy Nationals
(Final) Beat Odisha Naval Tata Hockey High-Performance Centre 3-1 (3-3)
(Semfinals) Beat SGPC Hockey Academy 3-1
(Quarterfinals) Beat Olympian Vivek Singh Hockey Academy 2-1
Beat Tamil Nadu Hockey Academy 7-0
Beat HAR Hockey Academy 6-2