Meteoric Rise of Punjab National Bank Forward Sukhjeet Singh
Performing consistently in the domestic circuit is one thing and earning a maiden international call-up is quite another. Sukhjeet Singh must be as pleased as punch on his inclusion in the Indian men's hockey team for the Pro League games against Spain. The 25-year-old Jallandhar lad forced his way into the national fold with a string of solid performances for Punjab National Bank in the domestic circuit. Sukhjeet's call-up means that for the first time ever the national team features four players from Punjab National Bank – the other three being Olympian Shamsher Singh, Mandeep Mor and another recent new entrant Abhishek.
Read High-Performing Punjab National Bank Grapple With Semifinal Blues
Sukhjeet, who has been representing Punjab National Bank since 2016, has played his part in the bankmen reaching the semifinals of as many as five domestic tourneys – 38th Surjit Hockey Tourney, 31st Lal Bahadur Shastri Hockey Tournament, 57th Senior Nehru Hockey Tourney, 1st Chhaju Ram Memorial Senior Hockey Tournament, and 1st Hockey India Senior Men Inter-Department National Championship in recent months.
Read Jugraj Singh: Exciting Drag-Flicking Hope for India
The talented forward hogged the limelight, racking up a splendid hat-trick in a thrilling 5-3 win over Indian Oil in the 38th Surjit Hockey Tournament at Jallandhar. Sukhjeet really came into his own in the 1st Hockey India Senior Men Inter-Department National Championship at Bengaluru, emerging as the top goal-scorer (8 Goals). "I'm really chuffed with Sukhjeet's inclusion in the national side. He has all the attributes of a forward – he possesess pace and excellent ball control and can be lethal inside the striking circle," says an elated Punjab National Bank coach Romesh Pathania, who has been watching the youngster develop over the years.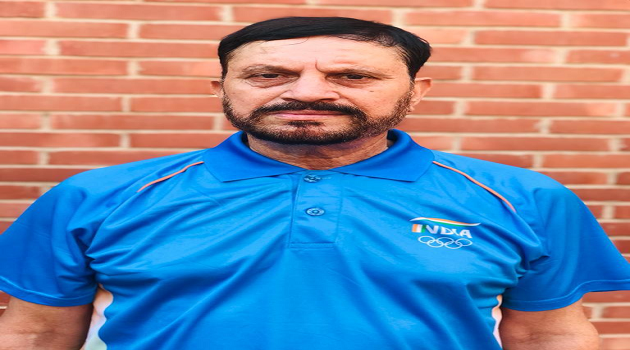 The Dronacharya awardee coach reckons Sukhjeet can be handy during penalty corners as well. "Sukhjeet is well versed with stopping short corner injections and he has served Punjab National Bank well in this area," insists Pathania.
Read India's Young Forward Abhishek Rewarded for Robust Showing in Domestic Tourneys
The highly respected coach, who has been in charge of the Punjab National Bank side and one who deserves a lot of credit for emergence of bankmen as a strong domestic team, talks about how Sukhjeet and another Punjab National Bank forward Abhishek add value to the Indian side. "Both forwards can accelerate and breach any defence. While Sukhjeet is good at stopping the ball during penalty corners, Abhishek is strong in defending short corners – many a times we have seen him get injured either on his helmet or any other part of his body during PC routines," concludes the 65-year-old coach.
Read Shilanand Lakra: Exuding Oodles of Talent
Indian forwardline is blessed with a lot of talents and Sukhjeet has to deliver a strong performance in order to cement his place in the side. It's all about translating his robust domestic performance into the international arena and the youngster has the ingredients to make it big.