Jugraj Singh: Exciting Drag-Flicking Hope for India
Indian men's hockey team's drag-flicking department did suffer a setback when vastly experienced Rupinder Pal Singh announced his international retirement after the bronze-winning Tokyo Olympics campaign. The arrival of highly talented Indian Navy drag-flicker Jugraj Singh in the 33 core national probables exudes hope that the team's drag-flicking cupboard will be further shored up. It's a sweet coincidence that he shares the name of another exceptionally talented drag-flicker whose international hockey career was cut short by a 2003 road accident.
Jugraj first made it to the 60 national probables and subsequently among the 33 national probables on the back of string of strong performances in various domestic tournaments. The 24-year-old youngster, who hails from Attari village along the India-Pakistan border, has been instrumental in Indian Navy making a semifinal appearance in the 57th Gooncha Senior Hockey Tournament at Hyderabad. He scored a crucial goal in the semifinal when Indian Navy lapped up a 2-0 lead against Indian Oil only to see their opponents level the issue and stretch the contest into a shootout where the Navymen went down 2-4. The talented fullback, who had joined Indian Navy in 2016, scored two crucial goals in their 2-2 draw against formidable Railway Sports Promotion Board (RSPB).
Jugraj was in his elements representing Services Sports Control Board (SSCB) at the 1st Chhaju Ram Memorial Hockey Tournament at New Delhi. He scored a sizzling hat-trick in the 5-3 semifinal win over Madhya Pradesh Hockey Academy – in the final he scored twice even as SSCB lost to Petroleum Sports Promotion Board 3-4 in a well-contested final.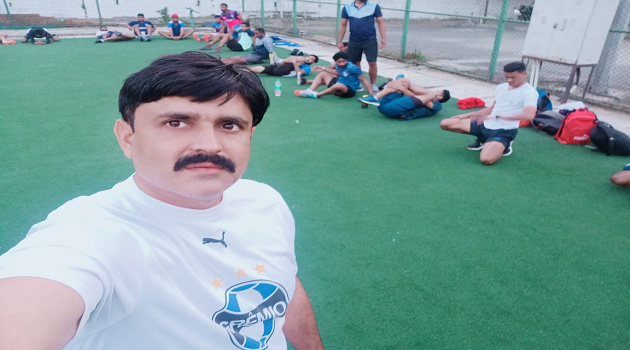 Indian Navy coach Ajay Kumar believes Jugraj has the potential to make it to the final 16 or 18 probables for upcoming Pro Hockey League. "Jugraj has been a consistent performer for Indian Navy over the last four-five years. His drag-flicks packs a punch and I'm sure he will be a great asset to the national team in international competitions," he heaps praise on the youngster.
Kumar says Jugraj has the knack of delivering when the chips are down. "He has scored goals as well as defended them when the team needed the most. At the Senior Nehru Hockey Tourney and Chhaju Ram Memorial Hockey Tournament, Jugraj came to the party in crisis game situations."
One hopes that Jugraj will be an exciting addition to the current crop of drag-flickers that have the likes of Harmanpreet Singh, Varun Kumar among others.