How Simdega Accorded Fitting Farewell to Outgoing DC Sushant Gaurav with Hockey Sticks Salute
It's always a fantastic sight to see people diligently working behind the scenes for the development of sport. And one gentleman who has been doing a lot for the cause of hockey in and around Simdega is Sushant Gaurav. The Simdega Deputy Commissioner (DC) has been consistently doing his bit to uplift the state of hockey in Simdega. In his less than two-year stint as Simdega DC, Gaurav is a household name among the Simdega hockey fraternity.
Read Sangita Kumar: Exciting Prospect in Indian Women's Team Forwardline
With Gaurav now transferred as Gumla DC, the hockey fraternity in Simdega did not want to miss out on the opportunity to accord a fitting farewell to the able administrator, who has been instrumental in developing hockey among other sports in the district.
Hockey Simdega organized a farewell function at the Astroturf Hockey Stadium in Simdega, where seven dozens of boys and girls hockey players gave farwell to the outgoing Simdega DC with their hockey sticks salutes – something which would be etched in memories of Simdega hockey lovers for years to come.
Read Meteoric Rise of Punjab National Bank Forward Sukhjeet Singh
The organizational excellence of Sushant Gaurav first came to the fore when Simdega hosted the 11th Hockey India Sub Junior Women National Championship held in March 2021, where the district administration under his able guidance hit the right notes for their exemplary conduct of 11th Hockey India Sub Junior Women National Championship held in March 2021. Hockey Jharkhand performed well and lose to Hockey Haryana 2-3 in a shootout in the final after the match ended goalless. Simdega again successfully hosted the 11th Hockey India Junior Women National Championship held in October 2021, where Hockey Jharkhand finished runners-up going down to Hockey Haryana 2-3 in the final.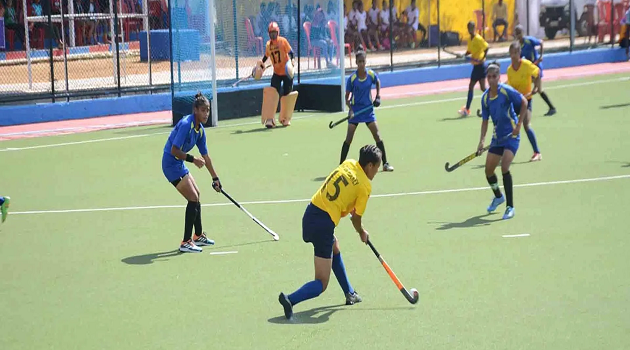 "As Simdega DC, Sushant Gaurav Sir has done commendable work for the development of hockey in the district. It is because of his strong administrative skills Simdega was able to host the Sub-Junior Women National Championship and Junior Women National Championship. The hockey sticks salute by Simdega boys and girls hockey players are acknowledgement of his huge contribution to the sport," says Hockey Simdega President Manoj Konbegi.
Read Batra's Stern Missive to Hockey India Unfortunate: 1975 World-Cup winner Aslam Sher Khan
Konbegi revealed how Sub-Junior Women and Junior Women Nationals were catapulted into global hockey map. "The Simdega DC took the initiative and did the needful to ensure both the nationals at Simdega were beamed live on YouTube – the live telecast was available across 192 countries and all these would not have been possible without the unstinted support of Sushant Gaurav," he eulogises the outgoing Simdega DC.
It remains to be seen whether the good work initiated by Sushant Gaurav is carried forward with same enthusiasm and passion.