How Midfield Domination Helped Odisha Women Win the Senior Nationals!
The wealth of women's hockey talent in Odisha is there for all to see but somehow when it comes to the senior nationals, the state eves haven't quite been able to tick all the 'required' boxes. Odisha women's hockey team did not even make it to the semifinals of the 2021 Senior Women's Nationals at Jhansi, where they lost 1-2 to Hockey Punjab in the quarterfinal stage. Even at the 2020 Senior Women's Nationals at Kollam, their quarterfinal jinx continued as they were shown the tournament exit by Hockey Haryana in a 2-4 defeat in the last-eight stage.
Read Domestic Hockey Tournaments Offer Attractive Prize Money Despite All Odds!
Clearly, the Asmita Barla-captained Odisha side was not considered overwhelming favourites for 2022 Senior Women's Nationals at Bhopal. But armed with a new coach in Edgar Mascarenhas (the former Indian goalkeeper, who had played for Air India for two decades), Odisha women's hockey team was not just able to turn over a new leaf but also make a telling statement about their hockey prowess, outplaying all their opposition to corner glory in the Bhopal Senior Women's Nationals.
Read Mumbai Hockey Championship: Mumbai Customs Regroup After Initial Reverses
The Odisha women was at their rampaging best in their pool stage – pitted in Pool H, they made mincemeat of hapless Hockey Telangana, Hockey Kerala, and Hockey Himachal registering big 14-0, 11-0, and 8-0 victories. 33 goals in three games epitomises the dominance of the state side that featured three internationals – Sunita Lakra, Lilima Minz, and Punam Barla. However, the Odisha outfit had to really fight hard before they out-duelled defending champions Hockey Madhya Pradesh 2-0 in a shootout after being tied 1-1 in normal time. It was again smooth sailing as they routed Hockey Jharkhand 5-0 in the last-four stage and pipped Hockey Karnataka 2-0 in the title tilt.
Read Joaquim Carvalho Recalls India's 1985 Sultan Azlan Shah Cup Triumph
Odisha women's hockey team coach Edgar Mascarenhas, who took charge only in April 2022, says fitness of his side was a big factor in the team's outstanding performance in the senior nationals. "My prime focus was to improve the fitness of the girls. We used to practice for two sessions – 8 am to 10 am under the searing heat and from 6 pm to 8 pm under lights at the blue turf of the Kalinga Institute of Technology. The morning session was focused on ball possession and how we can communicate better in terms of calling for the ball. We worked a lot on off-the-ball skills, while the evening session revolved around playing games among ourselves," says Mascarenhas in a chat with Hockey Passion.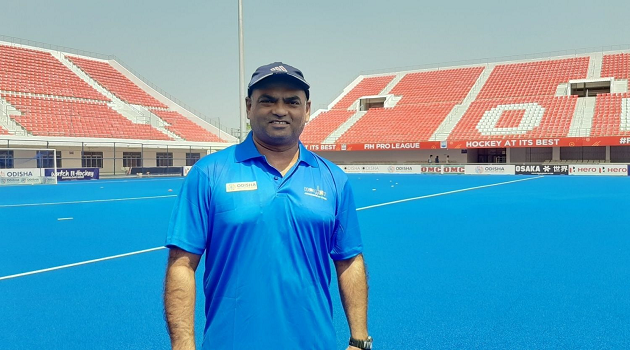 Read All You Want To Know About Men's Hockey Asia Cup!
The former Indian goalkeeper, who is also a FIH Level II certified coach, believes the team held the ball for long periods and frustrated their opposition. "Our ball possession was superb. The way we dominated the midfield makes me really happy as a coach – it was because of our midfield control we were able to beat reigning champions Madhya Pradesh in the quarterfinals," he gushes.
Read India's Biggest Wins in Men's Hockey Asia Cup
Mascarenhas, who is a member of the 1995 SAF Games gold-winning Indian team, was all praise for goalkeeper Asima Minz. "Asima was really good throughout the tournament – she just conceded one goal in our eight games and even did not let in during the quarterfinal shootout against Madhya Pradesh," he makes his point.
Read or the 1st Time in 13 Years, 2 Tamil Nadu Youngsters – Karthi and Mareeswaran Will Play for Senior Men's Team in Asia Cup
The Odisha girls may have scored 41 goals in the tournament with the likes of Rojita Kujur, Punam Barla, Dipti Lakra, Janhabi Pradhan, Bimla Barwa, and Neha Lakra coming to the party but Mascarenhas insists it was their deep defence that impressed him the most. "The likes of Sunita Lakra and Lilima Minz brought all their experience into play and did a fabolous job, effectively complementing our doughty goalkeeper Asima."
The soft-spoken Odisha women's hockey team coach revealed something interesting as well. "There was not a single drag-flicker in the Senior Women's Nationals across all teams and that is unfortunate," he signs off with a tinge of concern.