How Haryana Girls Have Maintained their Strangehold on Sub-Junior Nationals!
Hockey Haryana have been dominating the Sub-Junior Women Nationals over the last few years – their stranglehold on the sub-junior nationals continued as they clinched the 12th Hockey India Sub Junior Women National Championship for the fourth consecutive time at Imphal. In all, it was their seventh sub-junior women's national crown.
Read Champions Training Centre Corner Glory in 2022 Mumbai Hockey Championship
The Azad Singh Malik-coached Haryana sub-junior women's hockey team have emerged as cut above the rest in the Imphal nationals. The Haryana girls had to prevail over Hockey Jharkhand 2-0 but not before weathering a stiff challenge. "Jharkhand are a formidable side and we knew what to expect from them in the final. Our focus was on consistently maintaining possession and my girls deserve credit for executing our plans," says Haryana coach Azad Singh Malik in a chat with Hockey Passion, barely able to hide the excitement of winning the sub-junior women nationals.
Read How Midfield Domination Helped Odisha Women Win the Senior Nationals!
Hockey Haryana was in ominous form in the pool phase – pitted in Pool A, they routed Hockey Jammu & Kashmir 12-0 and trounced Hockey Bengal 7-0 in Pool A to storm into the quarterfinals where they brushed aside Hockey Mizoram 4-1. The Haryana girls hardly faced any challenges in their semifinal and drubbed Hockey Madhya Pradesh 8-0. According to the Haryana coach, the quarterfinal against Hockey Mizoram pushed them out of their limits. "We won 4-1 but I thought the Mizoram side was strong – their speed and agility really impressed me but they were tactically caught short," he says.
Read Domestic Hockey Tournaments Offer Attractive Prize Money Despite All Odds!
Malik singled out Haryana captain Saavi for special praise. "Saavi was outstanding in the tournament and led from the front. She not only scored five goals in our semifinal against Hockey Madhya Pradesh but played her part in setting up both goals in the final against Jharkhand. She has a bright future ahead of her," he points out.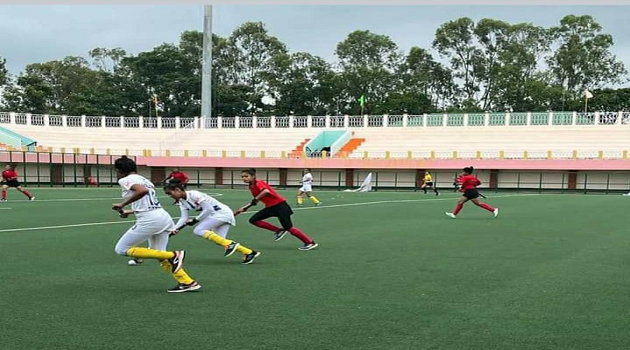 Read Growing in Stature: Hockey Umpire Deepak Joshi
However, the standard of sub-junior women's hockey according to Malik, has dipped as compared to the 2021 nationals. "I feel the standard in the Imphal nationals has dropped from what I saw at the 2021 nationals. There would be reasons for this dip in standard but I'm not in a position to pinpoint the reasons," Malik makes his point.