Growing in Stature: Hockey Umpire Deepak Joshi
The likes of RV Raghu Prasad and Javed Sheikh are very familiar faces when it comes to Indian hockey umpires officiating in international matches. The duo has carved out a strong umpiring reputation for themselves. But one name that has made all and sundry sit up and take notice of is Deepak Joshi. The 33-year-old hockey umpire from Uttarakhand has indeed enhanced his stature as a hockey umpire in the 2021-22 FIH Pro League – be it as an on-field umpire or as a video umpire, he has left no one in doubt that he has a bright hockey umpiring future ahead of him.
Read When Indian Men Finished with Wooden Spoon for the First Time in Any International Tourney at 1985 Amstelveen Four Nation Tournament
Employed as a Hockey Coach in the Directorate of Sports and Education Department of the Delhi Government, Deepak used to be a national-level player for Uttarakhand – as a right-winger who featured in several nationals for his home state. He played domestic hockey from 1997 to 2010 and obtained his coaching diploma from NIS Patiala in 2011. Deepak was initially reluctant to take up hockey umpiring. His umpiring debut happened at the 2012 Nehru Sub-Junior Hockey Tournament in New Delhi. At the 2013 Hockey World League Round 2 Tourney in New Delhi, Deepak was a volunteer and officiated in an Indian practice game only because there was a need for an umpire. It was here the umpiring skills of the Uttarakhand youngster impressed Olympic panel technical official Mohammed Munir, who recommended his name to Hockey India and there has been no looking back since then.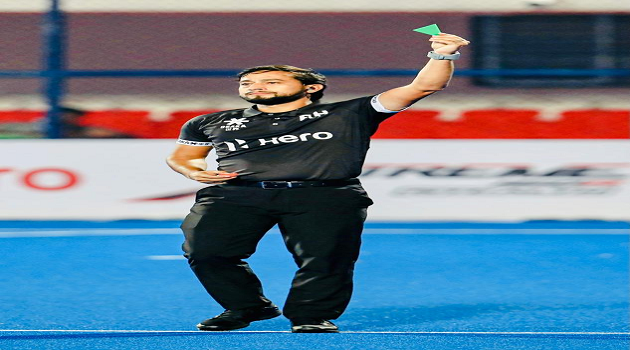 Read Terry Walsh Recalls SV Sunil's Sensational Goal vs Australia at Perth
The initial umpiring reluctance translated into serious umpiring aspiration for Deepak after he succesfully officiated in the 2014 Junior Nationals in Chennai. He made soon his international umpiring debut at the 2015 Six Nations Tourney in Breda, Netherlands, where he stood in the Netherlands-Belgium game. He subsequently secured his FIH Badge and started landing significant international umpiring assignments.
Read When A Narrow Loss to hosts Australia Denied Ashok Kumar-Captained India Semis Berth at 1979 Esanda International Tourney
Deepak, who is also a FIH Level I coach, has been part of several important international assignements such as the 2018 Commonwealth Games, 2019 Pan American Games, 2021 Africa Cup, 2016 and 2021 Junior World Cups besides the ongoing 2021-22 FIH Pro League. He also officiated at the 35th National Games in Kerala in 2015. The promising umpire has officiated in 49 international matches so far and the way he has been umpiring on the international stage, it will not be much of a surprise if he goes on to blow the umpire whistle at the 2023 Asian Games, 2023 Men's World Cup and 2024 Paris Olympics. His next international assignment is the 2022 Commonwealth Games slated to be held in Birimgham.
Efforts to reach out to Deepak to know his personal umpiring experiences proved futile as he was not available.