Former Indian Midfielder Bharat Chhikara Recounts Memories of India's Maiden Commonwealth Games Final appearance
The Indian men's hockey team needed to redeem themselves at the 2010 Commonwealth Games in their own backyard after their worst-ever performance at the 2006 Commonwealth Games in Melbourne, where they finished sixth, and were nosed out of the semifinal stage by Malaysia. At the 2010 New Delhi Commonwealth Games, the Rajpal Singh-captained Indian outfit needed to correct the 'wrongs' of 2006 and put their best forward – the Blueshirts did not let their home fans down as they made their maiden Commonwealth Games final appearance although they had a truly forgettable final match, where they handed a 0-8 thrashing by Australia in front of a packed home crowd at the Major Dhyan Chand National Stadium in New Delhi watched on by Indian Prime Minister Manmohan Singh.
Read Former Indian Forward Jyoti Sunita Kullu Relives 2002 Manchester Commonwealth Games Glory
Former Indian midfielder Bharat Chhikara – one of the key architects of India's silver-winning 2010 Commonwealth Games team, recounts memories of the journey. "Indian hockey was in a development phase then – our Spanish coach Jose Brasa who was highly reputed for his wide knowledge of the game, tried to help us pick the best of European hockey and Australian hockey and marry them to the strengths of Indian hockey," he says in a chat with Hockey Passion.
Chhikara has vivid memories of the crucial match-winner he scored in India's 3-2 win over Malaysia in the tournament opener. "We were pushed on the backfoot after Malaysia scored a first-half goal and we twice came from behind. I moved down the right and took a shot from the top of the 'D' after getting a pass from my team-mate whose name I cannot recall now. My goal came four minutes before the final hooter," he reminisces.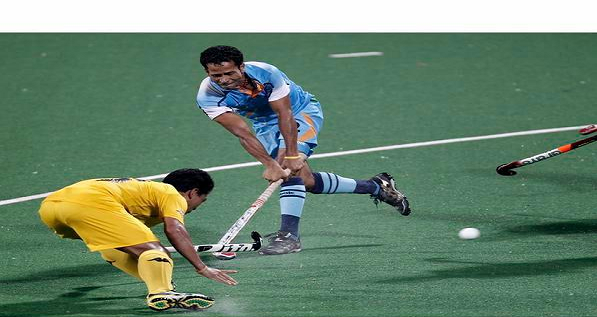 Read All You Want to Know About Men's Commonwealth Games Hockey
How can the confabulation miss mention of India's highly impressive 7-4 win over arch-rivals Pakistan? "India-Pakistan matches are always special. Coach Brasa used to tell us there is no need to get over-excited just because you are playing Pakistan and treat it as any other international match and stay focused. Sandeep Singh scored two early short corners and there was no looking back for us," Chhikara gushes.
Read All You Want To Know About Women's Commonwealth Games Hockey
The former international, who is employed with Indian Oil, bubbles with excitement as he shares memories of the brilliant comeback of India in the semifinal against England. "We could not believe the manner in which we clawed our way back to beat England. We were trailing 1-3 midway through the second half but we levelled things at 3-3 and stretched the match into extra-time, where we dominated but could not score. Our goalkeeper Bharat Chettri made a crucial save and we won the shootout 5-4."
Read When Bharat Chikkara Travelled to Malaysia & Belgium to watch the Indian Team play!
However, the 0-8 defeat at the hands of Australia in the final still rankles hockey fans and Chhikara, a product of SAI Sonepat and Air India Hockey Academy, puts things in perspective. "The final match was played at 11:30 am and we found it hard to adapt. Australia are a formidable side and you have to be at your best to match the Kookaburras. I just feel that some degree of complacency crept into our ranks, and maybe some of us were already satisfied since a silver medal was assured. Coach Brasa had lined up plans which we did not execute properly and that cost us dearly," he fires a parting shot.