1988 Olympics: Remembering Mark Patterson's Tie-Breaker Heroics in India's 10-9 Win Over Argentina
The Indian men's hockey team have created numerous memories in Olympics over many decades. But every such memory doesn't necessarily have to be a podium-finish game. One such match that is still remembered by hockey lovers even today is the 5-6th place play-off tie between the Indian-Argentina match at the 1988 Seoul Olympics. It was a game where fortunes fluctuated like a yo-yo. India had dominated the contest and took a 4-0 lead only to see Argentina rebound and level the issue at 4-4 in the second half. India again took the lead before Argentina restored parity as the match ended in a 5-5 stalemate. India scored first in extra time but it was not long before the South Americans made the scoreline 6-6 to stretch the contest into a tie-breaker, where India had the last laugh winning it 4-3 in sudden death to win by an overall scoreline of 10-9. Argentina's fightback was orchestrated by a brilliant hat-trick from Carlos Geneyro.
Read Anecdotes Galore: Harcharan Singh Relives 1975 World Cup Glory
September 28, 1988, will always remain special for a 19-year-old Mumbai youngster, who pulled off three crucial saves in the tie-breaker to ensure India finished among the top-6 that paved the way for their entry in the 1989 Champions Trophy at Berlin. The man in question is precociously talented Indian goalkeeper Mark Patterson, who vividly remembers that India-Argentina clash. "I remember that match like it was yesterday. We were comfortably ahead at 4-2 in the second half but some really poor umpiring decisions cost us and every time we pulled ahead the Argentinians were able to equalise. It was very frustrating because our boys were clearly the better side, but it looked like the final result would be out of our hands," Patterson recalls in a freewheeling chat with Hockey Passion from Perth, Australia.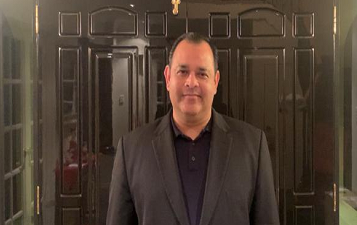 Read When India Beat Japan 5-0 Without Actually Scoring a Goal!
The former Indian goalkeeper, who at that time was considered one of the best in the business, was the reserve goalkeeper as the team management opted for much senior goalkeeper RS Rawat. "I still remember being asked by the coach MP Ganesh to get ready for the tie-breaker when the final hooter was blown with the match tied at 6-6. I had just turned 19 playing my first Olympics game for my country and it was a great feeling to be able to play my part in our team's win. The likes of Jude Felix, Mervyn Fernandes, and Balwinder Singh (twice) also did their part in scoring their penalties It may have been 33 years ago but I remember every second, walking out during that tie-breaker, like it was yesterday," he says with a tinge of emotion.
Read When Wrong Knee Injury Treatment Brought Abrupt Halt to Charles Cornelius' Promising Playing Career!
Patterson, who migrated to Australia in the early nineties after being cold-shouldered for the 1992 Barcelona Olympics, reveals why not playing a single game until that tie-breaker appearance worked well for him. "I had not been directly exposed as a player to the emotional roller-coaster that the team had been put through during that game. I was able to focus on what I had to do without the emotional baggage. However, I had literally no time to get warm and prepare. I still remember today walking out before every penalty – taking time out to go through my routine and trying my best to shut out everything else that was happening around me. It was an important one not only because it was an Olympic game and because it closed out a very frustrating game but because this win ensured India a spot in the 1989 Champions Trophy as the top 6 countries qualified for this mega event," Patterson signs off.