Why Indian Forwardline Will Rely Heavily on Navneet Kaur against Netherlands
The Indian women hockey team's forwardline will depleted to a large extent for the Pro League matches against the Netherlands. The Indian hockey eves have been operating in all the games since the Tokyo Olympics without their regular captain Rani Rampal, who is still recovering from a prolonged hamstring injury. The country's most capped women hockey player – Vandana Katariya (258 international caps under her belt) – will also not be available for the games vs England, having sustained an ankle fracture during the Pro League tie against Spain and had missed the double-headers against Germany.
Read Injured Vandana Unavailable for Pro League Ties vs England & Netherlands
If the absence of Rani and Vandana are not enough, the team would also miss several talented young forwards, who would be doing national duty in the Women's Junior World Cup that will be played at Potchefstroom, South Africa from April 1-12. Tokyo Olympians Shamila Devi and Lalremsiami and newest international debutants and the exciting duo of Sangita Kumar and Deepika Junior will also missing from the line-up for the Pro Leagues ties against the Netherlands.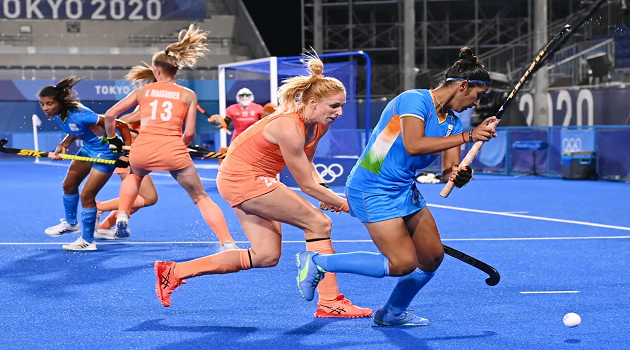 Read Experienced Forward Rani Rampal Making Good Progress from Prolonged Hamstring Injury
The absence of four Olympian forwards as well as Deepika and Sangita brings into focus the critical role of the rapidly-improving forward Navneet Kaur. The 25-year-old Haryana lass has been shouldering a lot of responsiblity in recent times, and has been a big factor in the Indian eves' forwardline thriving. How can one forget Navneet creating a brilliant goal-scoring opportunity for skipper Rani Rampal in the must-win game against Ireland in the dying moments at the 2021 Tokyo Olympics. Interestingly, Ireland was the country against whom Navneet made her senior international debut during a three Test series at Dublin in 2014 under coach Neil Hawgood.
Read Vandana Kataria: Journey From a 17-Year-Old Debutant to Being India's Most Capped Women Hockey Player!
Navneet has been the pivot around which the Indian forwardline has revolved in all the tournaments the team has featured since the Tokyo Olympics. Her ability to rise to the occasion has ensured Indian eves did not miss Rani Rampal much as the forwardline comprising youngsters have more or less shaped well in the Asia Cup as well as in the Pro League.
Read Sangita Kumar: Exciting Prospect in Indian Women's Team Forwardline
Navneet will have a massive role to play in the games against England and the Netherlands. She will look for support from steadily-improving Jyoti. The absence of a plethora of regular forwards means a window of opportunity for the likes of Rajwinder Kaur, Sonika Tandi and Mariana Kujut to perform and cement their place in the side. But yes, a lot will hinge on how Navneet performs the goal-creating and goal-scoring roles against the Netherlands.