For the 1st Time in 13 Years, 2 Tamil Nadu Youngsters – Karthi and Mareeswaran Will Play for Senior Men's Team in Asia Cup
Tamil Nadu hockey appears to be walking down the revival path – only recently, Hockey Unit of Tamil Nadu reached the final of the Senior Men's Nationals in Bhopal after a hiatus of 22 years, where they gave Hockey Haryana a run for their money before going down in the shootout. The runners-up finish was undoubtedly a shot in the arm for hockey in the state. Tamil Nadu hockey received a further leg-up as two state boys are included in the Birendra Lakra-captained Indian senior men's team for the upcoming 11th Asia Cup to be played at Jakarta, Indonesia.
Read Runners-Up Performance in Senior Men's Nationals – A Big Boost for Revival of Tamil Nadu Hockey
The handpicking of talented 20-year-old forward S. Karthi and 21-year-old midfiedler Mareeswaran Sakthivel in the national side is exceedingly significant because it is for the first time in 13 years that players from Tamil Nadu would be wearing the senior team jersey.
Goalkeeper Naveen and forward Gunasekar were the last two players from the state to play for the senior men's team at the 2009 Asia Cup in Kuantan, Malaysia.
Read Domestic Hockey Tournaments Offer Attractive Prize Money Despite All Odds!
It may be worth mentioning that PR Sreejesh and Rupinder Pal Singh despite hailing from Kerala and Punjab, have represented Tamil Nadu at the 2012 Senior National championships in Bengaluru. Karthi hails from Ariyalur while Mareeswaran hails from Kovilpatti. Mareeswaran is employed with AG Office, while Karthi is expected to land a job after playing in the Asia Cup.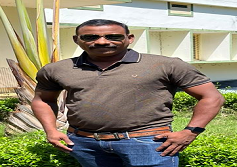 Read High Dose of Fun Awaits Former Internationals & Olympians in R2MI Kreeda 2nd Seniors Hockey Carnival at Bengaluru
Charles Dixon – the man who coached Hockey Unit of Tamil Nadu to a runners-up finish at the recent Senior Men's Nationals, puts things in perspective. "I think the inclusion of Karthi and Mareeswaran will be a big boost for Tamil Nadu hockey. Their inclusion will embolden other state youngsters to play for the country. Both are very talented players and I'm confident that they would fare well in the Asia Cup," he says.
The 44-year-old former Railway fullback, who has featured in three nationals, is excited about these two youngsters. "Karthi is a strong lad and relishes goal-scoring situations. More importanty, he is a drag-flicking striker, which is a great weapon to have for any side. He has a lot of potential and should play in Olympics in future. Mareeswaran has bundles of energy and is a solid midfielder."
Read Will Outstanding Performances in Asia Cup Propel, Birendra, Sunil into First-Choice Indian Team?
Sekar J Manoharan, President of Hockey Unit of Tamil Nadu is happy with the upswing witnessed in state hockey. "We reached the Senior Men's final after 22 years and now we have two boys representing the senior men's team after 13 years. Both Karthi and Mareeswaran have been part of the junior & senior camps for the last three years and I'm glad that they made the cut. I hope they make the most of the opportunities in the Asia Cup," he pointed out.