Bracing Up for Bigger Things: Drag-Flicker Sharda Nand Tiwari
The drag-flicking cupboard of Indian men's hockey appears to be overflowing with riches – Harmanpreet Singh – the current Indian men's hockey team captain is spearheading our drag-flicking department – the Punjab da puttar is has shown explosive short conversion form this year and is the world's top goal-scorer for 2022 with 29 goals to his kitty. Varun Kumar was being looked as a great second drag-flicking option after Harmanpreet until a forgetable Commonwealth Games campaign saw his exit out of the national fold.
Read India Ride on Late Mandeep Fireworks to Outwit Black Sticks in Thriller
The emergence of Indian Navy boy Jugraj Singh was like a music to the ears of the Indian hockey fans, who were left mighty impressed by his impressive initiation to international hockey via the Pro League. Haryana lad Sanjay – the top goal-scorer of the 2022 Junior Men's Hockey World Cup – is another exciting drag-flicking option, who has made it to the senior team core probables. Even as our drag-flicking department exude so much promise, Sharda Nand Tiwari's impressive performance with penalty corners in India's triumphant Sultan of Johor Cup campaign in Malaysia is sure to provide exciting options for coach Graham Reid. Of course, the youngster would have to wait for his turn in the senior team like his junior team-mate Sanjay is waiting in the wings.
Read How Surjit Singh Towered over the Indian Deep Defence!
The 18-year-old Lucknow boy, who showed his class in the 2022 Junior Men's Hockey World Cup, came to the party in the 10th Sultan of Johor Cup, scoring at crucial moments to emerge as a top goal-scorer (7 goals) – his efforts played a big part in India's victorious journey. A product of Sports Authority of India (SAI), Lucknow, Sharda Nand has made stready progress as he came through the junior ranks. It was his crucial goal that helped India edge out Belgium by a solitary goal in the quarterfinal of the 2022 Junior Men's Hockey World Cup, where he was playing a second fiddle in the presence of equally in-form Sanjay.
Read FIH Pro League: Spain Dent India with Late Strike
The youngster scored in literally every pool match save for the Japan tie – he struck two early goals that gave India a 2-0 lead in the match against South Africa before they lost the plot and went on to lose the match narrowly 4-5. The lanky fullback again scored a crucial double in India's mouth-watering 5-5 draw over Australia – he also scored twice in India's 5-5 draw against Great Britain.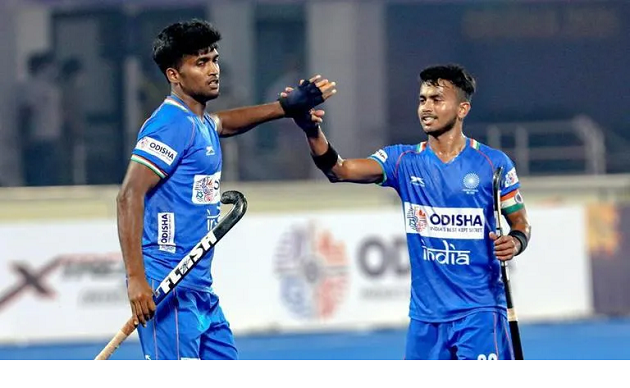 SAI Lucknow coach Neelam Siddiqui recalls how an avid kite-flyer turned into a hockey player. "It was back in 2012 when I first saw Sharda Nand engaging in a bout of kite-fyling with his friends at the KD Singh Babu Stadium in Lucknow. I was impressed with his robust physique and his ability to sprint around the Stadium while resorting to kite-flying and asked him to meet me – he was initially jittery as he was apprehensive that I would berate him for flying kites in the Stadium. He was much more comfortable when I told him that he should take up hockey," she relives his early initiation into hockey.
Read 39th Surjit Hockey: Not the Best of Starts for Defending Champions Railways, 2021 Runners-Up Punjab & Sind Bank
Sharda Nand took his hockey lessons under Neelam Siddiqui from 2012 to 2014 before the youngster trained under Rashid Aziz Khan (husband of Neelam Siddiqui) a reputed SAI hockey coach based in Lucknow. The 2019 Sultan of Johor Cup was his international debut and there hasn't been any looking back. "Sharda Nand is extremely hard-working boy and he likes to raise the improvement bar every day. I'm sure he would play for the Indian senior team soon," Neelam sounds confident.
Son a Home Guard, the Indian junior fullback has had his struggles like most hockey players for want of adequate economic support and all this while it is his strong will power that has stood out. "He is mentally strong and it is his desire to play hockey that helped surmount all his hurdles coming in the way. I watched India's matches in the Sultan of Johor Cup and I'm proud of his performances in Johor Bahru. He scored goals for his country in crucial stages and I have no doubts that he would be exciting drag-flicking option for the senior team," quips Neelam.
For now, Indian men's hockey team have a problem of plenty when it comes to drag-flicking options.