High-On-Confidence Indian Men Hope to Extend Winning Ways Against England
Perched at second position in the Pro League points table behind Germany and ahead of the Netherlands by the skin of their teeth, the Indian men's hockey team have all the right noises to be considered one of the strong contenders for the premier FIH tourney. The Amit-Rohidas-captained side has exuded amazing fighting spirit throughout the tournament and the manner in which they pulled off final-minute goals to seal the fate of Spain and Argentina is a testimony to that.
Read Shilanand Lakra: Exuding Oodles of Talent
It won't be a sweeping statement to make to say that India should it easy over England. Their last meet-up against then Great Britain at the 2021 Tokyo Olympics showed up the quality gap between the two teams, with the Blueshirts playing to a plan and executing them seamlessly in a 3-1 win in the quarterfinals. England's Pro League campaign has been a mixed bag so far. They made a whirlwind start thumping Spain 6-1 and subsequently followed it up with a 3-2 win in two away games in Valencia. But they came a cropper in their overseas ties against Argentina, going down 1-3 and 0-2, to languish at 7th spot in the standings.
Read Trying to Learn From My Seniors: Indian Forward Sukhjeet Singh
The two games against India would be crucial for Zak Jones-coached England side's bid to climb up the points ladder. England will bank on two-time Olympian Sam Ward – one of seven players, who featured in the Tokyo Olympics – to spell trouble for Indian deep defence. The forwardline of England has a nice sprinkling of experience with the likes of Liam Ansell, David Condon, Nick Bandurak and David Goodfield capable of ripping apart any defence.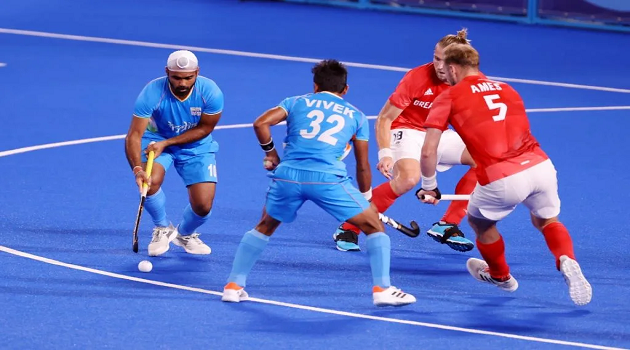 Read India Doing Well Means World Hockey is Going Well: Celebrated Ex-Belgium Coach Shane McLeod
India must watch out for newbie forward Duncan Scott, who scored two lovely goals against Spain on his international debut. Skipper Tom Sorsby, James Gall, Chris Griffiths, would have to control the midfield for their forwards to fire on all cylinders but it won't be easy against the likes of Indian captain Manpreet Singh, Hardik Singh, Nilakanta Sharma, Shamsher Singh, and Vivek Sagar Prasad.
Comeback lad Gurjant Singh, Mandeep Singh, and local boy Shilanand Lakra would have to step up to the plate against England. When on song, they can cause devastation in the oppositional goal. Newcomer forward duo of Sukhjeet Singh and Abhishek must look to cement their spot in a forwardline, where there is fierce competition for places.
Read On The Comeback Trail: Simranjeet Singh
Drag-flicker Jugraj Singh, who nearly missed out on a hat-trick againt Argentina, would be expected to fire rockets from PCs – he has shown India has great PC option even if Harmanpreet Singh and Varun Kumar have an off-day in office. Purely going by overall strength of both teams, it would be really surprising if 4th ranked India does not eke out a facile win over 7th ranked England.