How Bichu Devi Kharibam Has Emerged as an Exciting Goalkeeping Option Alongside Savita Punia!
There is no shortage of discussion on the Indian women's hockey team having an able goalkeeping option in Bichu Devi Kharibam alongside first-choice goalkeeper and Indian captain Savita Punia. The 21-year-old goalkeeper, who hails from Manipur, but learned and honed all her hockey lessons at the Gwalior-based Madhya Pradesh Hockey Academy (MPHA), was magnificent at the 9th Junior Women's World Cup in South Africa. She will always remembered for helping India pulling off a famous 2-1 win over former champions Germany in the league phase – the Germans had 22 shots at the Indian goal but found a rock in the form of Bichu Devi. She conceded just one goal in the league phase of the Junior Women's World Cup before the law of averages caught up with her in the semfinal and the bronze medal play-off tie.
Read When Indian Goalkeeper Bichu Devi Kharibam Frustrated Germany to No End!
Bichu Devi, who made her senior international debut in the Pro League against Germany, grabbed the limelight when she came up with a superb goalkeeping performance and enabled the Indian junior eves to win the 2019 Four Nations Junior Women Invitational Torney in Dublin, Ireland. Bichu Devi was a big factor why India was able to beat Ireland 2-1, Scotland 2-1, Canada 2-0 and again pipped Ireland 1-0 in the final – no wonder, she was named the 'Goalkeeper of the Tournament'. The precocious talents of the Manipur girl was first noticed at the 2018 Youth Olympics in Argentina, where India clinched an historic Silver medal. Bichu Devi continued to perform consistently in the Test series against France and Belarus and was also at her best in the 2019 Three Nation Tourney in Australia, where India defeated New Zealand twice and drew and lost once narrowly to hosts Australia. Her goalkeeping prowess made Hockey India coaches and selectors sit up and take notice of her and she was soon drafted into the senior women's team.
Read Junior World Cup: Salima Tete Dazzles as Profligate Indian Girls Whip Wales 5-1
But her hockey journey kickstarted at the Gwalior-based Madhya Pradesh Hockey Academy (MPHA) when she was just 13. "I first saw Bichu Devi in 2012 playing a match in Gwalior. Although he conceded some goals in that match, I was convinced that she will make it big as a goalkeeper," says Madhya Pradesh Hockey Academy (MPHA) head coach Paramjeet Singh, who has mentored her for more than a decade now.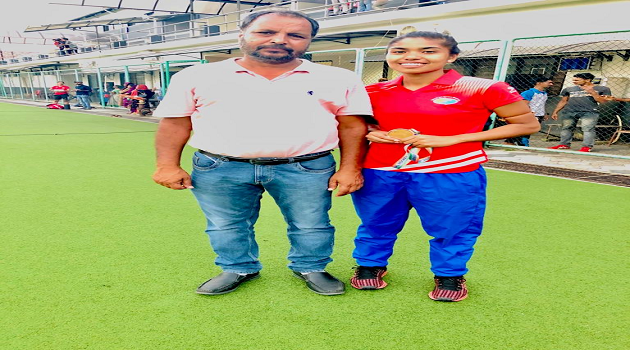 Paramjeet believes Bichu Devi came across as a natural goalkeeper when she joined the Madhya Pradesh Hockey Academy in 2013. "Bichu Devi is a daring goalkeeper – at our academy we employ ball-hitting machines from close range and she relishes those challenges as defending powerful shots from a short distance is never easy. She has a positive body language and quick-silver reflexes. More importantly, Bichu Devi knows well when to charge out to blunt an opposition attack and when to stay in the goalline," quips her coach, who has been associated with MPHA as a coach since its inception in 2006.
Read Junior World Cup: India Sail into Quartefinals With All-Win-Record
The talented goalkeeper is shy by nature but very disciplined at all times. "At the MPHA, she is one who would never ask for leave to visit her home state Manipur. There are times when she would not visit her hometown for a year and a half. Bichu Devi is extremly dedicated and focused on on hockey," reveals Paramajeet.
Like any other Indian hockey fan, Paramjeet was thrilled to bits when he saw his ward come up with a blockbuster performance against Germany in the Junior Women's World Cup. "We knew what Bichu Devi is capable of and her efforts against Germany did not come as a surprise. Germany kept having a crack at the Indian goal and one lost count of numerous saves Bichu Devi made. It was only because of her goalkeeping India was able to beat Germany," he makes his point.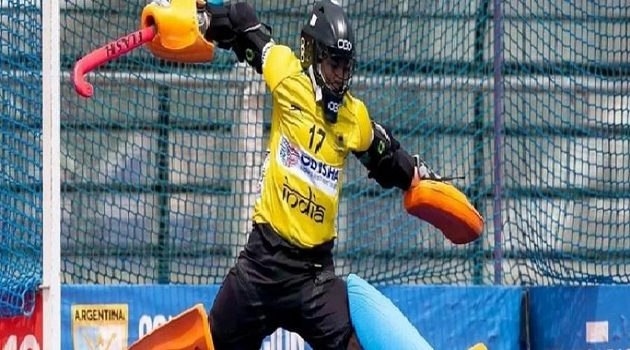 Read Fighting India Junior Eves Outduelled by England in Shootout
Transitioning from the junior ranks to the senior team is easier said than done, but Paramjeet insists Bichu Devi has the attributes to serve the senior team for a long time. "The only thing she is lacks is international experience which Savita has. If Bichu Devi is handled appropriately and given the right opportunities she will be very handy for the Indian senior team," Paramjeet signs off.
For now, Bichu Devi has done enough to merit a place in the senior women's team ahead of second-choice goalie Rajani Etimarpu for the away FIH games against Argentina, Belgium and the USA to be played in the month of June.