When India Conquered Slump in Form to win 1988 Marshall's International Tourney in Kenya
The Indian men's hockey team was going through rocky times prior to its departure for Nairobi, Kenya to play in the Six-Nation Marshall's International Hockey Tournament a few months before the 1988 Seoul Olympics. The Marshall's International Hockey Tournament did not attract top nations such as Australia, Netherlands, Germany, and Great Britain but India's remarkable feat of winning the tournament as well as beating formidable arch-rivals Pakistan twice in the tourney served as a huge morale-booster ahead of the Seoul Olympics. "Indian team's performance had hit rock-bottom after finishing last at the 1986 London World Cup. A month before we headed to Kenya, we did not do well in the Perak International Tourney in Malaysia, where we finished 5th among 6 teams. So the Marshall's International Tourney attached a lot of significance for the team and our triumph put us in the right frame of mind for the Seoul Olympics," recounts former Indian midfielder, captain, and three-time Olympian MM Somaya in an exclusive chat with Hockey Passion from Mumbai.
The 62-year-old former stalwart, who led the national team at the Six-Nation Marshall's International Hockey Tournament and subsequently at the 1988 Seoul Olympics, gets excited talking about two wins over Pakistan in the Marshall's International Tournament. Pakistan had a formidable side those days – it has the likes of mercurial striker Shahbaz Ahmed, Waseem Ahmed, Ishtiaq Ahmed, and fullback Nasir Ali. We beat them 3-0 in our first league tie and then in the final, we scored a last-gasp goal after trailing them 0-1 for the most part of the match to push the match into a penalty shootout where we had the last laugh," he gushes.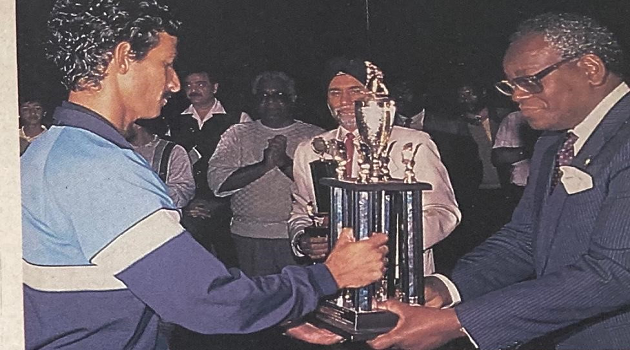 Somaya, who had made his senior international debut at the 1980 Moscow Olympics, shared memories about the superb goalkeeping in the shootout by Mark Patterson. "Mark was an exciting 18-year-old youngster who had just come into the national fold – he pulled off three crucial saves in the shootout – I still remember his father, who was also a hockey goalkeeper for Indian Navy, watching him from the stands in Nairobi," he fondly remembers.
The Marshall's International Hockey Tournament was playing on a round-robin format with the top two teams making it to the finals. "The organisers chalked out the fixtures only after we landed in Nairobi. It was because many teams were confirming or cancelling their participation till the last moment. Besides India and Pakistan, USSR, Canada, Spain and hosts Kenya played in that tourney," he says.
The Six-Nation Marshall's International Hockey Tournament hasn't been talked about glowingly in Indian hockey circles but the title win was surely a meaningful contributor to the national team's preparations for the 1988 Seoul Olympics.