Chris Ciriello Recounts Men's Hockey World Cup's Only Final Hat-Trick at the Hague in 2014
Men's Hockey World Cup Special
Chris Ciriello has been a wonderful servant of Australian hockey – his drag-flicks instilled fear in the minds of the opposition deep defence. As far as his professional life is concerned Ciriello wears several hats – he owns the RAW Institute that conducts live hockey coaching, physical training, different motivational and development skills across domains – he also owns the CCT Medical Innovations along with two other medical professionals besides being Head of Asian Engagement at Hockey Western Australia based out of Perth.
Read India's Only World Cup Top Goal-Scorer Rajinder Singh Relives 1982 Bombay World Cup
The burly 36-year-old Victorian, who made his senior international debut against South Africa in 2009, scored 116 goals off 199 internationals in nine-year playing career spanning (2008-2017). Among the many 'highs' he has attained for the Kookaburras nothing can match his dazzling hat-trick against the Netherlands in the final of the 2014 Men's Hockey World Cup at The Hague, where Australia clobbered the Dutch 6-1 – it was the first and only hat-trick scored by any player across fourteen men's World Cup editions.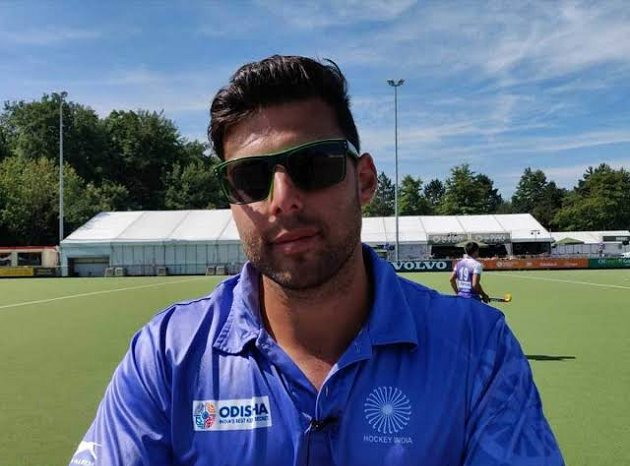 Read All You Want to Know About the Men's Hockey World Cup
There is a sense of bubbling excitement and enthusiasm in Ciriello's tone when the confabulation veers around the 2014 Men's Hockey World Cup final. "Going into the final Australia had conceded just two goals and our deep defence was pretty strong. We were put on the backfoot by the early Dutch goal from Jeroen Hertzberger and the 25,000 home crowd erupted but the goal did not faze us nor was there any dropping of heads in our ranks. We fired home a short corner from the second battery before Kieren Govers scored another off a shortie and we led 2-1 at half-time. I still remember Glenn Turner enhancing the lead before I scored from the first battery twice to wrap up my hat-trick as we won the final handsomely," Ciriello says in a chat with Hockey Passion.
Read 'Dutch Players Walked Back to their Dressing Room when India were Awarded Extra Time Penalty Stroke at 1973 World Cup'
What makes Ciriello's 2014 Men's Hockey World Cup final hat-trick 'special' is the fact he was able to breach the defences of Jaap Stockmann, who was considered one of the best goalkeepers around at that time. "Jaap Stockmann is a world-class goalkeeper and it gives immense satisfaction to beat his defences thrice in a World Cup final. I know him very well and have played together club hockey for HC Bloemendaal that also had the likes of Wouter Jolie, my Australian team-mates Mathew Swann and Fergus Kavanagh. We also played together for Punjab Warriors in the Hockey India League – knowing him well and training together also helped," he quips.
Read Oldest Players to Feature in Men's Hockey World Cup
Considered India's nemesis because he spells trouble for the Indian deep defence – he scored twice in their 4-0 win over India at the 2014 Men's Hockey World Cup and also racked up a brace in their 4-2 win against India in the pool match of the the 2014 Glasgow Commonwealth Games before going on to slammed a hat-trick in the 4-0 win over India in the final of the 2014 Glasgow Commonwealth Games.
He shares an interesting tale of how he beat Sreejesh all ends up in both games (pool game and the final) of the 2014 Glasgow Commonwealth Games and subsequently ended training Sreejesh on how to counter drag-flicks as India's Analytical Coach from 2018-2020. "It's funny actually, I breached Sreejesh's defences comprehensively with my drag-flicks in the 2014 Commonwealth Games and four year later I was training and guiding him on how to counter drag-flickers from opposing teams," he grins.
Read Biggest Wins in Men's Hockey World Cup
Fast-forward to the 2023 Men's Hockey World Cup, and Ciriello elaborates on who are his favourites. "Belgium are red-hot favourties to win the World Cup and then there is of course Australia – these two teams should go the distance."
The 2010 and 2014 Commonwealth Games gold medal winner, who is nicknamed 'Big Dog', offers his take on India's World Cup chances. "I believe India stand a good chance of reaching the semifinal. If you ask me if they are going to win the World Cup, I would say they have the talent to achieve it but it is not going to be easy given the might of Belgium and Australia," he makes his point.
The former Aussie fullback reveals how he acquired the nickname 'Big Dog'. "It was coach Ric Charlesworth, who gave me this nickname during our victorious 2011 Champions Trophy campaign at Auckland," he grins firing his parting shot.