Pro League: Resolute Spain Thwart Indian Challenge
It is never easy to bounce back after back-to-back last-minute goal-conceding defeats – Spain experienced the same in their Pro League campaign against England and India. And on Sunday at the Kalinga Stadium in Bhubaneshwar, the Redsticks were more than keen to prove a point but their plans appeared to go awry when Abhishek worked his way past a maze of Spanish defenders to sneak in a backhand flick to put India ahead – not the start Spain would have desired.
Read Sreejesh Attains Personal Milestone of 250 International Appearances
Spain showed they wear determination in their sleeves. Their riposte was fierce – they literally brushed aside the cobwebs of leaking the opening goal and restored parity via Pau Cunill – one of Spain's finds of the 2021 Junior World Cup (he scored 8 goals), who made the most of a penalty corner in the closing stages of the opening quarter. Joan Tarres made it two goals in two minutes for the red brigade, rifling home a backhander that breached the defenses of Surak Karkera as the visitors had their noses in front going into the second quarter.
Read Pro League: Spanish Women Outduel India in Nerve-Wracker
Spain pressed home the advantage when Pau Cunill profited from another short corner opportunity in the second quarter. India ensured they did not fall behind by a long way as Harmanpreet Singh fired home a penalty corner to keep his side's hopes alive going into half-time. Debutant forward Sukhjeet Singh couldn't have choosen a more opportune time to score for his team – flicking home a superb pass from rapidly-improving Jaskaran Singh as India announced their comeback plans in no uncertain terms. Spain obviously did not want last-minute jitters like the first leg tie, and focused on closing out the match. From here on the match could have tilted either way, but Pepe Cunill made it a memorable day for the Cunill brothers whipping home a short corner six minutes from the final hooter.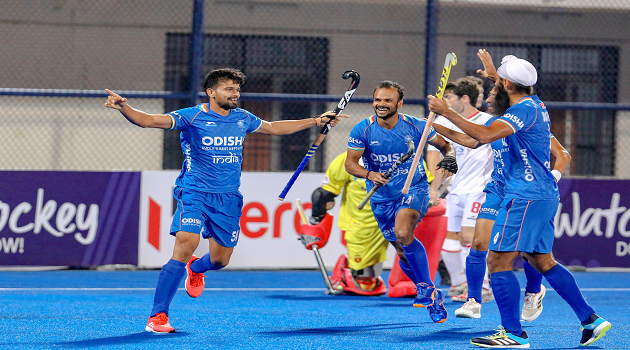 Read Stats Corner: India-Spain Men Head-to-Head Record
India in a desperate bid to get more outfield players to force an equaliser, took Suraj Karkera out of the pitch but it didn't help their cause as Spain won a short corner in the dying seconds and March Miralles cooly slammed it home against an Indian defence minus their goalkeeper – his 4th goal in two days. The goal eliminated the possiblity of Spain being greeted by any nasty surprises like the first leg on Saturday. Both teams brought to the fore one thing – there isn't much to read into FIH world rankings as most teams in the top 8 are capable of upsetting the applecart of each other.