When Indian Goalkeeper Bichu Devi Kharibam Frustrated Germany to No End!
Bichu Devi Kharibam is talked about as an exciting goalkeeping prospect for the Indian women's hockey team – she showcased her goalkeeping talents in abundance, standing like a Rock of Gibraltor and thwarting Germany to no end to Indian junior hockey eves post a crucial 2-1 win over the former champions to leapfrog to the top of Pool D and appear to be in line to face South Korea in the quarterfinals of the 9th Junior Women's Hockey World Cup at Potchefstroom, South Africa.
Read Junior World Cup: Salima Tete Dazzles as Profligate Indian Girls Whip Wales 5-1
The 21-year-old shot-stopper from Manipur was cynosure of all attention as she time and again denied Germany from scoring not just in field goal situations as well as in penalty corners. The Indian deep defence was at their best blunting out eight short corners from Germany. Kharibam also received solid backline support from vice-captain Ishika Chaudhary, Akshata Abaso Dhekale, Baljeet Kaur and Lalramnghaki Marina. Germany had 28 circle penetrations and 22 shots at goals as compared to India's 11 shots at goals and 19 circle penetrations – these statistics reveal how the fiesty Manipuri shot-stopper towered over the Indian defence and turned in a wall that was hardly to breach for Germany, who was flying high after a big opeining win (10-0) against Malaysia.
Read All You Want to Know About Junior Women's Hockey World Cup
India appeared determined to seize the initiative and hardly had the Germans junior girls settled down, the Eric Wonink-coached Blueskirts profited from their first penalty corner when Lalremsiami slammed home a rebound after Mali Wichmann saved the drag-flick from Deepika. Germany came back hard at India, who seemed prepared to soak up whatever pressure was thrown at them. Germany won a penalty stroke and Jette Fleschutz's stinging flick was brilliantly saved by Kharibam, diving to her right.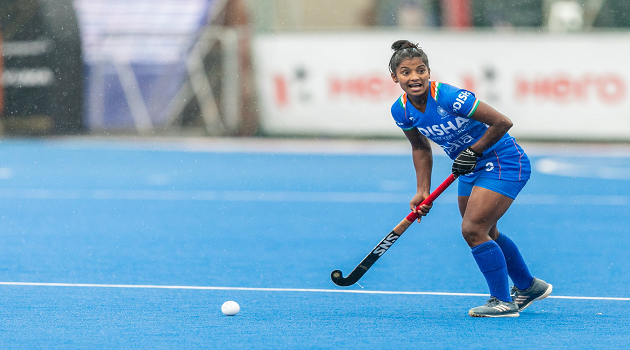 Read Trip Down Memory Lane: Poonam Rani Relives India's Bronze Win at 2013 Junior World Cup at Monchengladbach
India rubbed more salt to the German wounds close to half-time when Mumtaz Khan tapped home an indirectly taken short corner by Reet. Trailing 0-2 at half-time, Germany continued to make forays and short corners but India stood firm in their way. Germany withdrew their goalkeeper with just three minutes remaining in a desperate push to score, and it seemed to work when Jule Bleuel weaved her way past a crowd of Indian defenders, unleashing a tomahawk to which Kharibam for a change, did not have an answer.
Read Coach Satinder Pal Singh Walia Recalls India's Maiden 2001 Junior Women World Cup Campaign
India survived anxious closing moments – they found it hard to run down the clock and came perilously close to conceding one more goal when Lena Frederichs slammed it over the crossbar. This was India's first-ever over Germany in the Junior Women's Hockey World Cup. They had lost 1-4 to Germany in their only meeting in the 2005 edition at Santiago.