Indian Oil's Hiring of Women Players: A Big Boost for Indian Women Hockey
Indian Oil Corporation Ltd (IOCL) has been at the forefront of promoting and supporting hockey in the country. Indian Oil's humongous contribution to Indian hockey is well documented – it was in the year 2000 that they started the process of offering jobs to country's top men hockey players. Indian Oil has now taken a giant leap by taking a call to hire women hockey players for the first time ever in their bid to build a women's hockey team. Such a move indeed augurs well for the future of Indian women's hockey since Indian Railways have been shouldering the larger responsibility of hiring women players. Barring the likes of Rani Rampal, Savita Punia and Ritu Rani, most of the Indian women hockey players are employed with Railways. And Indian Oil's decision will be like a music to the ears of women hockey players.
Read Pro League: High-On-Confidence Indian Eves Will Look to Extend Germany's Losing Streak
Indian Oil have roped in as many as 9 women hockey players – including three from the national squad that played against Spain – young Indian forward Sharmila Devi, defender Ishika Chaudhary and goalkeeper Bichu Devi Kharibam. Besides the three, Indian Oil have offered jobs to young forward Rajwinder Kaur and a bevy of defenders such as Deepika, Rashmita Minz, Bajeet Kaur, Suman Devi and Akshata Dhekale.
Read Sangita Kumar: Exciting Prospect in Indian Women's Team Forwardline
The objective of Indian Oil is to develop young talents. "The top management at Indian Oil have mulling over putting in place a women hockey team and they have now taken a call to build a women's team. The focus is to hire youngsters and build not just an Indian Oil team but also chip in as a supply line to the national team," says former national-level hockey player Kamlesh Parihar, who interestingly was among the first batch of men hockey players to be hired by Indian Oil in 2000.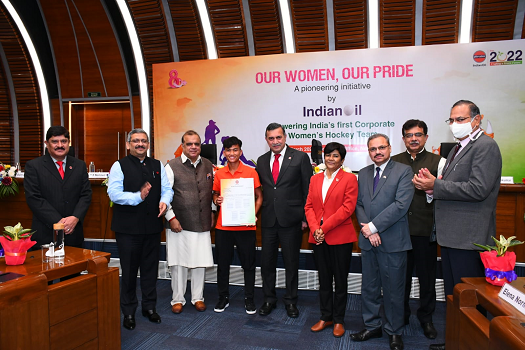 Read Trying to Learn From My Seniors: Indian Forward Sukhjeet Singh
Parihar, a former forward, who played for Sports Authority of India (SAI, Gujarat, Sports Authority of India (SAI, Bengaluru and Air India Academy between 2000 and 2001, informed that Indian Oil would hire more women players in the coming months. "Olympian goalkeeper Devesh Chauhan has been spearheading the scouting programme for our women's team. We are going to hire more girls in coming times," he says.
It may be worth mentioning that many talented names of Indian men's hockey – Deepak Thakur, Prabhjot Singh, Devesh Chauhan, Vokkaliga Raghunath, Viren Rasquinha, Kothajit Singh, Dharamvir Singh, SK Uthappa, Bharat Chhikara, Roshan Minz, Affan Yousuf, Talwinder Singh, etc have served the Indian Oil team.
Four members of 2021 Tokyo Olympics bronze-winning men's team – goalkeeper Krishan Pathak, midfielder Hardik Singh and the forward duo of Dilpreet Singh and Simranjeet Singh are also employed with Indian Oil.