39th Surjit Hockey: Not the Best of Starts for Defending Champions Railways, 2021 Runners-Up Punjab & Sind Bank
The 39th Surjit Hockey Tournament being played at the Olympian Surjit Singh Astroturf Hockey Stadium in Jallandhar, has had a fair share of surprises. Reigning champions Railway Sports Promotion Board (RSPB) were in for a rude shock when they went down to Indian Air Force 1-3 in a Pool A quarterfinal league stage game. Last year's runners-up Punjab & Sind Bank were also handed a 1-3 defeat by Army XI, Delhi in a Pool B quarterfinal league stage game.
Read Surjit Hockey Tournament Winners
The opening match blues effectively means that both Railway Sports Promotion Board and Punjab & Sind Bank would have their work cut out as far as their semifinal-reaching aspirations are concerned. Railways Sports Promotion Board would have to contend with teams such as former champions Punjab Police in the quarterfinal league stage. Similarly, Punjab & Sind Bank would be up against the likes of Punjab National Bank and ASC, Bengaluru, who made it to the quarterfinal league stage by shunting out Rail Coach Factory, Kapurthala 2-1 and CAG, New Delhi 1-0 in the knockout phase.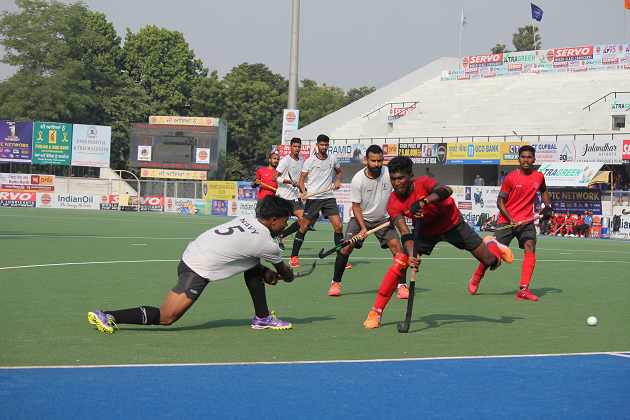 Read Spectators can Win Maruti Alto Car by Just Watching the 39th Surjit Hockey Tournament!
Indian Air Force also entered the quarterfinal league stage in Pool A by going through the Pool A stage. Meanwhile, former champions Indian Oil Mumbai grounded the Indian Air Force Hockey team by 5-0 and Punjab National Bank defeated former champion Army-XI (Delhi) 2-0.