Want to Build on Sultan Azlan Shah Cup Glory: Malaysia Coach Arulselvaraj
It took 39 years for hosts Malaysia to crown themselves in Sultan Azlan Shah Cup glory – a triumph that is considered 'significant' for the world number ten side to propel their next level of 'progress' in world hockey. Understandably, the Speedy Tigers would now look to capitalise on the Sultan Azlan Shah Cup momentum in the upcoming World Cup to be held in India. "The Sultan Azlan Shah Cup win has given the team a big lift ahead of the 2023 World Cup. We are focused on building on this triumph in the FIH Nations Cup and seal our Pro League spot for 2023-24 edition as playing the in the league would provide us with the opportunity to lock horns with the top sides," says Malaysia men's hockey team coach A Arulselvaraj in a chat with Hockey Passion.
Read Malaysia Corner Sultan Azlan Shah Cup Glory Finally!
The 48-year-old coach – a former international who had represented Malaysia in the 1993 Junior World Cup at Terrassa as well as played for the national team in the 1998 World Cup in Utrecht is candid enough to talk about the bigger picture for Malaysian hockey. "My long-term goal is to help Malaysia play in the 2024 Paris Olympics – we have not been part of the Olympic programme since 2000 when we had featured in the Sydney Olympics and finished 11th," he says bluntly.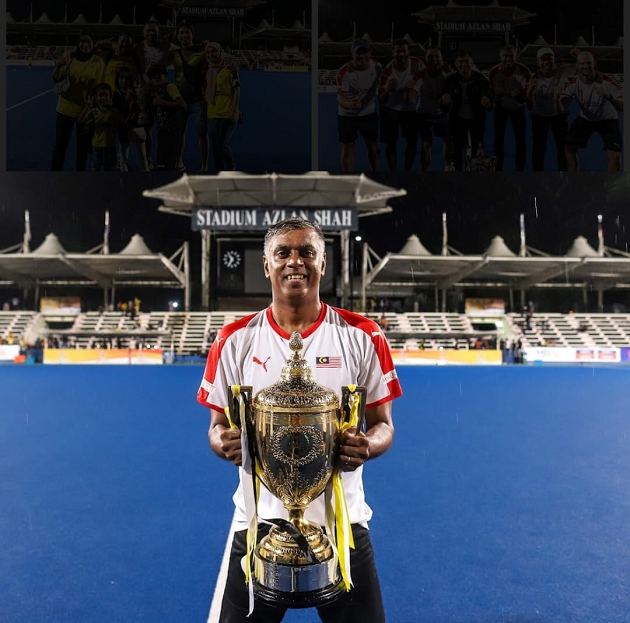 Arulselvaraj, who had also served in coaching stints in South Africa and Ireland, believes there is a need for a dedicated support staff that can help them become a top 6 or 7 international side. The Malaysian government and the Malaysian Hockey Confederation have been big pillars of support for the national team. We now have a dedicated strength and conditioning coach (trainer) employed by the MHC and such initiatives can go a long way in taking our hockey to the next level," he makes his point.
Read Absence of Big Teams Rob Sultan Azlan Shah Cup Much of its Sheen
The Malaysian coach, who took over from Dutchmen Roelants Oltmans in the second half of 2020, is realistic about the national team's chances at the 2023 World Cup. "We are in a relatively decent pool alongside Netherlands, New Zealand, and Chile. Getting through the pool stage would be key for us although it won't be easy," he quips.
Read All You Want to Know About Sultan Azlan Shah Cup
The Speedy Tigers have been grappling with a bout of injuries to some of its key players. "Regular skipper and defender Marhan Jalil is still recovering from a foot injury while forward Shahril is recuperating from a knee and ankle injuries. I'm hopefully both would be available for selection for the World Cup," he signs off on an optimistic note.