An Unfamiliar Outside-the-Podium World Cup Finish for the Kookaburras!
Australian men's hockey team have been 'consistency-personified' over many years now – winning a major tournament means a lot to them and an 'outside-the-podium finish' at a major event isn't something you usually associate with the Kookaburras. The Aussies have raised the bar so high over the years that even pulling off a draw or beating them is considered a 'big deal' by the opposition – for no reason Australia held the world number one ranking for a lengthy period of time.
Read How Germany Rode on Steely Determination to Corner World Cup Glory!
Clearly, Kookaburras' performance at the 15th World Cup must be a 'new low' as they are not accustomed to 'not standing on the podium' of a major event such as the World Cup. Statistically speaking, this was Australia's first non-podium finish in the World Cup in 25 years – the Kookaburras plumbed a similar experience at the Utrecht 1998 World Cup when they settled for the fourth place, losing their semifinal and subsequently their bronze medal play-off tie much like what happened at the 15th edition in India.
If we look closely, it is hard to remember in recent years Australia losing two games in any major event – they would either go the distance or make a podium finish in big-ticket events. So what could have gone wrong for this formidable team that have won 3 World Cups, twice being runners-up and settled for the bronze on five occasions? Australia probably did quite uppe the ante when it mattered and did not play the key moments of the game as they would have desired or got out-witted by their opposition (Germany & Netherlands). The yellow-and-green brigade came under the pump in the quarterfinal against Spain when they were down 0-2 in the first twent-four minutes of play, and it was because of the rescue act of drag-flicker Jeremy Hayward, they scraped through by the skin of their teeth.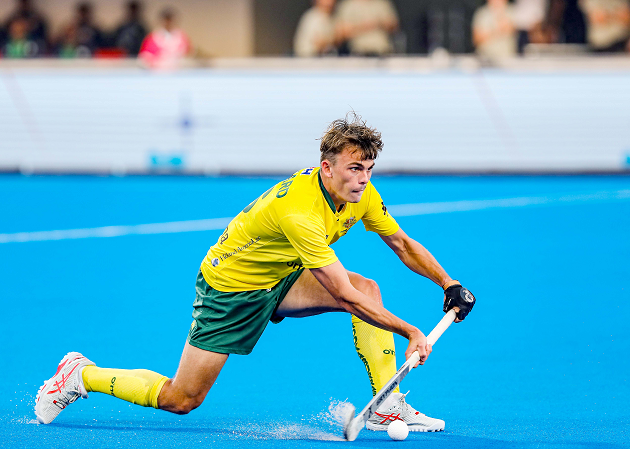 Read Stats Talk – 15th Men's Hockey World Cup
The Kookaburras' deep defence just capitulated in closing stages of the third quarter as well as in the final quarter of the semifinal against Germany – not many teams can think of scoring a 16-minute hat-trick against them – something hugely talented Gonzallo Peillat scripted in a high-pressure semifinal. It was a semifinal Australia should have closed out convincingly leading 2-0 for more than 40 minutes of play and could not even defend their 3-2 lead in the dying moments. Aussies just fell apart after taking an early lead against the Netherlands in the bronze medal play-off tie.

"Australian team were not part of the international programme after the 2021 Tokyo Olympics for around eight-nine months – they did not feature in the 2021-22 Pro League. I think the lack of competitive hockey affected them. Of course, they played a lot of Test matches among others in 2022. but the long game-absence after the Olympics deprived them of adequate big-match preparation," feels Dutchman and current Pakistan team coach Siegfried Aikman.
Aikman says the fourth-place finish for Australia can happen to best of teams. "We know they have set high winning standards for themselves, but let's not forget that they have reached the semifinals of the World Cup and a 4th place finish is still an acceptable result. They are a quality side and would bounce back for sure," he quips.
Read 200th International Milestone for Australian Fullback Jeremy Hayward Amidst a Lost Cause
Interestingly, across 15 World Cups (since 1971), Australia failed to make a podium finish only on four occasions – there are two occasions when they did not even make it to the semifinals – the inaugural 1971 and 1975 World Cups (they did not play the 1973 World Cup owing to lack of funds). The Kookaburras have carved out their presence on the World Cup podium from the 1978 World Cup onwards right up to the 1998 edition at Utrecht. Barring the first two World Cups and the 1998 World Cups, hockey world has been witness to their impeccable consistency.
All in all, Australia have lost just seven games in last three years that speaks volumes of their 'winning mentality'. Barring the two defeats in the 2023 World Cup, the Kookaburras have lost to India 3-4, 2-3 to the Netherlands & Spain respectively in whole of 2022. They lost twice to Belgium 2-3 (1-1) at the 2021 Tokyo Olympics and and againt lost to them 2-4 in the Pro League in 2020.
Coach Colin Batch would have a lot to ponder about as the national gears up for the 2022-23 Pro League and channelise their preparations for the big one – 2024 Paris Olympics. A lot of soul-searching would surely happen and Australia would hopefully overcome this phase and come out stronger.
Australia's Defeats in Last 3 Years
| | | |
| --- | --- | --- |
| Opponent | Tournament & Year | Venue |
| Lost 1-3 to Netherlands | 2023 World Cup | Bhubaneshwar |
| Lost 3-4 to Germany | 2023 World Cup | Bhubaneshwar |
| Lost 3-4 to India | 2022 Test Series | Adelaide |
| Lost to Netherlands 2-3 | 2022 Test Series | Terrassa |
| Lost to Spain 2-3 | 2022 Test Series | Terrassa |
| Lost to Belgium 2-3 (1-1) | 2021 Olympics | Tokyo |
| Lost to Belgium 2-4 | 2020 Pro League | Sydney |