Overcoming Fear of Failure Hold the Key: Pakistan Coach Siegfried Aikman
Pakistan hockey has plumbed an unprecedented low – it has not featured in the last two Olympics (2016 & 2021) – it had finished a lowly 12th among 16 participating teams at the 2018 World Cup and was also not part of the 2014 World Cup. The Greenshirts are striving to hit the right notes under newly-appointed Dutch coach Siegfried Aikman. In his first international assignment, the Pakistan team showed a lot of fight at the 6th Asian Champions Trophy and made Olympic bronze medallist India work hard before going 1-3 in the league tie and 3-4 in the bronze medal play-off tie.
Read How 'Competitive Quotient' in India-Pakistan Matches Has Diluted Over the Years
Siegfried Aikman brought his coaching credentials to the fore at the 6th Asian Champions Trophy and appeared to have transformed the Pakistan side into a fighting unit working closely with the other coaching and support staff. The shrewd Netherlands coach, who had guided Japan to 2018 Asian Games gold at Jakarta, shared his perspectives on Pakistan hockey in an exclusive interview to Hockey Passion.
Excerpts:
Q How challenging is your role as Pakistan coach for a team that is trying to rebound from the downward spiral it has hit in recent times?
As a coach I've a strong desire to perform well and believe in the talents I've seen. We've to modernise Pakistan hockey but that will not happen overnight. I think that if we can commit the players and staff to what we mutually want to achieve we can make it happen. We want to fare well at the World Cup and Olympics but before that we need to qualify. We are are determined to fight our way up to the top. I hope to inspire the team like I did with Japan.
Q A lot has been said about Pakistan's inability to regularly feature in international tourneys owing to lack of funding – your thoughts.
I'm aware it's not easy to get funding. The Pakistan Hockey Federation (PHF) has been doing everything possible to create a basic start. It's up to us as team to take that challenge further. We need to perform in order to get what we want. It's not different then in normal life. Parents take care of the basic needs and then the children have to slog to make it a success – when they have success steps to grow they are more easy to make. The PHF made it possible for me to join the team. They work hard to facilitate the team and staff in a good way and I appreciate the steps taken.
Q You got an opportunity to watch Pakistan colts at the 12th Junior World Cup in India as well as the senior team at the Asian Champions Trophy – what is your assessment of Pakistan hockey?
Pakistan hockey have huge potential but lack many import aspects of modern hockey. They mainly play hockey based on the conditions when they were very successful but the game has changed. We will have to change our way without losing our strong points. The team is eager to perform but is afraid of failing. The fear of failure has an important impact on their confidence and impacts their play. We have to work on that. Playing high performance hockey demands a good management of your game. We need to learn to apply good risk management and choose their moment to attack and be robust in defence without making blunders and without losing temper. If we can do that, we will receive less cards and will be able to compete with at least equal numbers.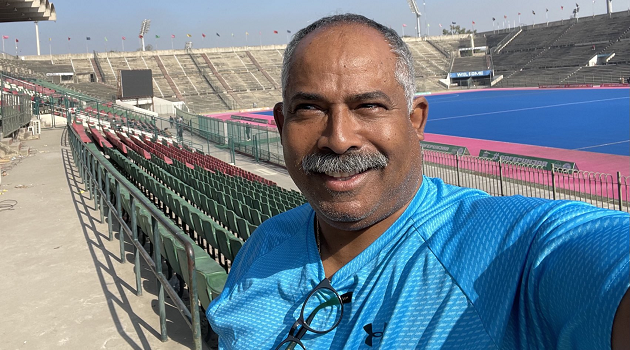 Q Given its rich hockey legacy how important is Pakistan's revival for the health of hockey as a sport?
I think global hockey needs Pakistan to return to the top of hockey. People around the world are researching for the Pakistan-India matches. People want to see a revival of Pakistan hockey. It's always exciting to watch Pakistan play when they are confident and play at their best. At the 2019 Olympic qualifier in Amstelveen, Pakistan thrice took the lead before settling for a 4-4 draw against the Netherlands. The Dutch crowd no doubt wanted their team to win but they appreciated the way Pakistan played. But we lost the second tie by a big margin and that is what we have to change. Hockey needs Asia to be at the top of world hockey and Pakistan have a huge potential given its massive fan following.
Q Every coach would have his own way of operating – what would be your key focus areas to improve Pakistan hockey?
The first is the reality check that we are not the hockey wizards as that was the previous generation. We can't rest on their performances. We need to become a healthy family that wants to achieve their goals together and support each other in good and bad days. Pakistan need to go back to the basics and try to master the necessary skills, which nowadays hockey require. We have to learn how to be successful, drive effective risk management, damage control, creating opportunities, converting these opportunities. We need to enjoy our hockey and celebrate each day we have together busy achieving our dreams.
Q Coaches always carry the pressure of delivering – has the Pakistan Hockey Federation (PHF) has set any long-term or short-term goals for you?
The charm of high-performance sports is that you have to deliver that pressure is also a good thing as those who are able to perform at the right moments are the real champions. Together with PHF we have set our goals for the upcoming 5 years. We know where we want to reach and we are aware that we will have ups and downs at the same time. We must have our strong desire and dreams and we should never go on the pitch to lose. That is why we say that we will always give our all and everything to be successful that is the least what we can do. But reality is also that even if we do so top teams will be better than us, which doesn't mean that we cannot surprise them. That is also the power of sports and each match you have 100% chance to win but also to lose. A look at the last Asian Games and 6th Asian Champions Trophy indicates how the highest ranked team did not emerge as the winner.