Strong Club Culture, Focused Programmes Driving Belgium's International Dominance: Shane McLeod
It won't be a far-fetched exaggeration to suggest that he is the man with the Midas touch. Belgium Olympic gold-winning men's hockey team coach Shane McLeod indeed is – the New Zealander who took charge of the Red Lions in late 2015, has won every big tournament – he has coached Belgium to glory in 2018 World Cup, 2019 European Championships in 2019, Pro Hockey League and Tokyo Olympics in 2021 – he had also guided the Red Lions to a silver medal win at the 2016 Rio Olympics.
Hockey Passion caught up with the celebrated hockey coach, who quit as coach of the Belgium men's hockey team after the Tokyo Olympics to understand what went behind shaping Belgium into a hockey powerhouse, his future plans, etc.
Excerpts:
You took charge of the Belgium men's hockey team in late 2015 – the Red Lions have won every big title – what would you attribute to the team's consistent international success over the last 5-6 years?
The Red Lions had already started their development well before I took charge in 2015. They had had several top coaches that had all left things behind that had helped Belgium Hockey grow. When I arrived, the task was to put together these things and the team in such a way as to get the players to reach their full potential. We worked very hard, both on and off the field, to create a team that worked for each other and in the process, the team become closer and closer. Every member understood the value of all players working towards a common goal. They enjoy the success of others and they enjoy the challenges that we constantly put in front of them.
Read Consistently Beating Top Sides Will Make India World-Beater: Terry Walsh
The world hockey order is fast changing – there was a time when Australia, Netherlands, and Germany were dominating all sides – now Belgium and India have come up.
Countries like Belgium and India have made big steps over the last few years. They have done this through setting up better systems but also understanding that you need to invest in the programs that lead players into the senior sides. The future of all nations lies in the current junior players. This investment pays off. If you look at the last Junior World Cup you see Belgium and India playing the final.
Australia, Germany, and Holland are still near the top of the World rankings and will continue to be top nations but what is good for world hockey is that there are now more countries competing for medals at big events.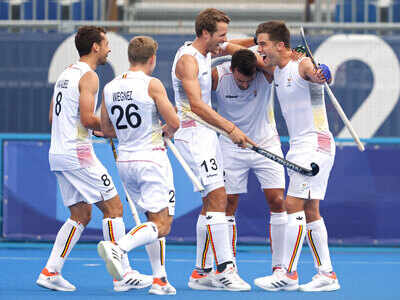 How much of Belgium's success can be attributed to club hockey in Belgium?
Club hockey is very important in player development. Clubs and the national programs work closely together in Belgium. Both understand the value of each other in the development of players. This relationship means that when the club play-offs happen then the players are left for the clubs. During an Olympic year, the clubs understand the need for the national program to have more access to the players. We are also noticing that in Belgium competition is getting stronger every year. This is because more talented young players are being produced as well as top players are looking to play their hockey in Belgium.
What's your assessment of the India-Belgium Tokyo Olympic semifinal- which Red Lions won 5-2?
It is hard to look at the game without the bias of being connected with one of the teams. From where I stand it was a good match. Very even in the first half with PCs being the key factor in the match. The second half was more open, and I felt that we lifted our level. The final score of 5-2 was exaggerated due to India taking their keeper off to create more chances. I'm sure that India was disappointed not to continue their winning run but the Belgium team were also chasing their dreams of Olympic Gold.
Were you surprised with the slew of FIH Star Awards won by India?
You can look at this in several ways. Firstly, it shows the great following that Indian hockey has and how passionate India's supporters are towards their players and coaching staff. Many countries could learn from this. However, I do think that by India winning all the awards it does not allow for some of the fantastic stories to be fully told. An example of this is Alyson Annan winning a gold medal with the Dutch Women's team. In doing so I think she has become the first person to win a gold medal as a player and then as a coach. It would have been fitting for her to have this acknowledged. It also creates some negative reactions that you never want to be related to such awards. All the winners of the awards are very talented and should not be in a situation where their award is questioned.
What are your future coaching plans?
At the moment I'm sitting in New Zealand enjoying the start of the New Zealand summer. I will be using this year to think about what next? It is nice to reflect on the last few years before I look for new challenges. I'm sure that I will not be long before I'm beside a hockey field again.