Obaidullah Khan Heritage Cup: Formidable Indian Oil Sweat, Punjab Police in Cruise Mode
It won't be a sweeping statement to make when one says that Senior Nehru Hockey Tournament Champions Indian Oil are placed in the Pool of Death (Pool D) at the ongoing Obaidullah Khan Heritage Cup being played at the Major Dhyan Chand Hockey Stadium in Bhopal. Indian Oil are one of the strong contenders for sure but it has to contend with the likes of Surjit Hockey Tournament runners-up Punjab & Sind Bank and CAG. So it was imperative for the oilmen to make a robust beginnning.
Read Prestigious Obaidullah Khan Heritage Cup Gets Underway in Bhopal
And they did start well in their tournament opener against CAG, pulling ahead with a short corner conversion by two-time Olympian Vokkaliga Raghunath. Indian Oil, brimming with international players including 3 Olympians, were not allowed to run away with the contest as one Chandan Singh took it upon himself to play a spoiler. Drag-flicker Chandan first scored a penalty corner goal to ensure both teams were on level terms at the half-time break. Indian Oil, who are minus their first-choice coach and Olympian Deepak Thakur, who is on national duty having been named Indian Women A team coach for the 2022 Commonwealth Games, embraced anxiety when Chandan converted a penalty stroke tp put the Navymen ahead with with ten minutes remaining for the final hooter.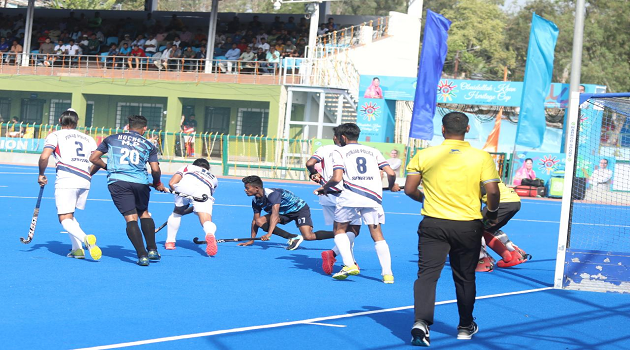 An upset was very much on the cards. Former international Talwinder Singh, who has been in rollicking form in the domestic circuit, did the saviour job five minutes from time to ensure the oilmen came away with a 2-2 draw. The match was in stark contrast to the Punjab Police-Madhya Pradesh Hockey Pool A match, where the cops riding on a brace by Arshdeep Singh, won with consumate ease with a 4-1 scoreline.
Earlier, Madhya Pradesh Hockey Academy gave the home crowd a lot to cheer about racking up a solitary goal win over GST Hockey Chennai in a Pool C tie. 2 Indian Navy weathered resistance from Central Secretariat before sneaking home with a 2-1 scoreline in a Pool B game. The Obaidullah Khan Heritage Cup is a seven-day affair with the tops teams from four pools making it to the semifinals. The semifinals and the final are slated for March 26 and 27 respectively.