High-On-Confidence Indian Women Braced For Spanish Challenge
The FIH Pro League script couldn't have got any better for the Indian women's team after their eyeballs-grabbing fourth place finish at the 2021 Tokyo Olympics – a blockbuster performance despite missing out on a podium finish and one that has triggered soaring expectations about the Blueskirts being among the world's top sides. Let's face it – the FIH Pro League preparations of the Indian eves have been far from ideal – the girls were deprived of adequate international exposure after their premature exit from the 2021 Asian Champions Trophy at Dhaka as one of their players was laid low by Covid-19.
The Asia Cup campaign did not go on expected lines as a bronze medal win was touted as a below-par showing for a side that could have easily been among the top-3 at the Tokyo Olympics. Slow-starters they did seem but a flurry of games served as an enabler for the girls to hit their groove – the manner in which they tonked China 7-1 in the opening Pro League tie and subsequently eked out a 2-1 in the second tie exuded an impression that they was loads of self-belief running through the veins of our girls.
Read Shilanand Lakra: Exuding Oodles of Talent
The three-week match break following the postponement of their games against the Netherlands gave the 9th ranked Indians ample time to recharge their batteries for the Pro League matches against world number 7 Spain. Spain will be no pushover for sure – they nearly missed out on an Olympic semifinal spot after they went down to Great Britain in a shootout after they twice came from behind to ensure the match ended in a 2-2 logjam.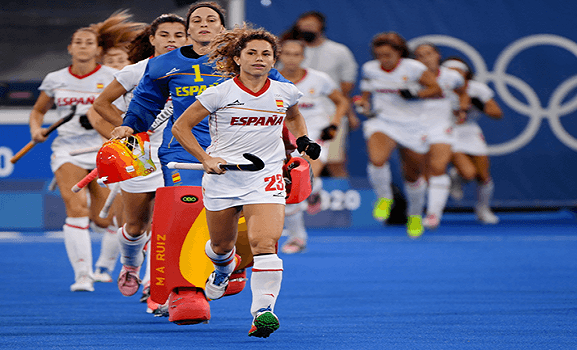 Read Indian Eves' PHL Focus On Upcoming Games Against Spain After Postponement of Netherlands' Ties
Like India, Spain have played two games so far – they gave the Olympic, World and European champions Netherlands a run for their money despite finishing as the second-best side in twin games at Valencia. The Spanish eves went down to the Dutch by a solitary goal in a match, where the latter looked far below their best. The Adrian Lock-coached Spanish girls came out all guns blazing in the return tie and held the Netherlands to a 2-2 draw in regulation time. Spanish goalkeeper Melanie Garcia was outstanding in both those games, espeically during short corners. It was only because of Dutch goalkeeper Josine Koning's superb shootout goalkeeping that denied Spain a win with three high-quality saves.
Read 2022 Women's World Cup: India Pitted in Pool B Alongside England, New Zealand, China
It won't be exaggeration to suggest that Spain will have an edge over India – having said that, let not lose sight of the fact that the Blueskirts are teeming with confidence after impressive back-to-back wins against China. The Indians have a fair amount of experience in their ranks – goalkeeper Savita Punia, fullbacks Deep Grace Ekka forward Vandana Katariya and midfielder Sushila Chanu have a collective experience of more than 800 internationals and more importantly, they are only getting better with experience.
Spain will rely heavily on three-time Olympian and captain Georgina Oliva – their most capped player with 248 internationals – she will command a strong presence in the midfield alongside experienced Beatriz Pérez, who has played 219 internationals. The red brigade's defence has a robust look – it will count on goalkeeper Melanie Garcia as well as the fullback duo of vastly expereined Maria Lopex, who has featured in 206 internationals and Xantal Gine, who scored a superb short corner goal against the Netherlands in the second Pro League tie.
Read Janneke Schopman's Win-Loss Record as Indian Women's Team Coach
The Spanish forwardline will look for inspiration from two-time Olympian Begona Garcia, Belén Iglesias and Patricia Alvarez, who scored an opportunistic rebound goal against the Netherlands. Both India and Spain are featuring in the Pro League as replacement teams for Australia and New Zealand – it will be a huge opportunity for them to make the most of it and move up in rankings and be part of the regular Pro League programme in the years to come.