100th International Milestone for Indian Defender Varun Kumar
Indian men's hockey team fullback Varun Kumar made his 100th international appearance in the FIH Pro League first leg match against Spain at the Kalinga Stadium in Bhubaneshwar. The 26-year-old Jallandhar lad celebrated his personal milestone scoring a crucial penalty corner goal to bring India on level terms before a last-gasp strike by Harmanpreet Singh sealed the fate of Spain.
Varun made his international debut in the 2017 Europe Tour of Belgium and Netherlands – he scored his maiden international goal on that tour, scoring in India's 4-3 win over the Netherlands. Widely touted as the best drag-flicker among the current crop after Harmanpreet Singh, the BPCL-employed defender was not part of the 2021 Tokyo Olympics squad of 16 but was added as one of two additional players (other being Simranjeet Singh) by the organizers – the International Olympic Committee (IOC) owing to Covid-19 pandemic. At Tokyo, Varun scored a crucial goal in India's 3-1 win over Argentina.
A member of the 2016 Junior World Cup-winning team, Varun has been part of several successful international campaigns of the Blueshirts. He was part of the bronze-winning 2017 Sultan Azlan Shah Cup team, gold-winning 2017 Asia Cup team, silver-winning 2018 Champions Trophy team, 2018 bronze-winning Asian Games team, gold-winning 2018 Asian Champions Trophy team as well as the 2021 bronze-winning Asian Champions Trophy team.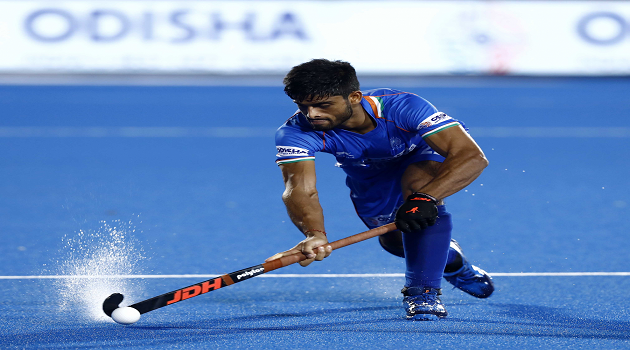 Varun had also featured in the 2018 Commonwealth Games and the 2018 World Cup where India failed to make a podium finish. He was India's top goal-scorer at the 2019 Sultan Azlan Shah Cup with 5 goals – in all he scored 26 international goals in 100 international matches.
The Indian fullback sustained an injury in October 2019 and was out of international action for three months – he had to given the 2020-21 Pro League matches against the Netherlands and Belgium a miss, subsequently marking a comeback during the Pro League games against Australia.
At 26, Varun is playing the best hockey of his life and should serve India for a long time to come.
got injured in october 2019 3 month absnce missed pro league vs dutch n belgium returned vs ausrralia
Spain Men vs India
1-6 v eng
2-3 eng last minute goal
Spain – missing many from tokyo olympic side – goalkeeper Quico Cortes, defender Miquel Delas, midfielder Roc Olivia,Marc Boltó,Marc Salles forwards Pau Quemada, David Alegre, Xavi Lleonart
Olympic team members in Pro League
Defender – Ricardo Sánchez 107,
Midfielder – Álvaro Iglesias 163,
Forward – Enrique González 134,
Fred Soyez, the Frenchman who leaves after seven years as national coach
---
Pro League Scheduling Poor
France men played 8 games vs india, sa, dutch, germany in 12 days in Potchefstroom from
South Africa played 8 games in 13 days
dutch 4 games in 5 days
ger 4 games in 6 days
india eves asia cup jan 21-28 5 games7 days in 2 days played china in pro league on jan 31 n feb 1
—
Goalkeepers: PR Sreejesh, Suraj Karkera
Defenders: Harmanpreet Singh, Mandeep Mor, Surender Kumar, Varun Kumar, Jarmanpreet Singh, Dipsan Tirkey
Midfielders: Manpreet Singh, Vivek Sagar Prasad, Hardik Singh, Jaskaran Singh, Shamsher Singh, Nilakanta Sharma
Forwards: Mandeep Singh, Lalit Kumar Upadhyay, Shilanand Lakra, Sukhjeet Singh, Abhishek, Akashdeep Singh