Has Coach Janneke Schopman Forced the Curtains on Rani Rampal's Decorated International Career?
The missing name of ace striker Rani Rampal from the 20-member Indian women's hockey team for the upcoming FIH Nations Cup to be held at Valencia, Spain in December is undoubtedly bound to cause a lot of talk among the hockey fraternity whether everything is hunky-dory when it comes to national women's team selection.
Read Belgium's John-John Dohmen Eclipses Barry Middleton's Record to Become World's Second Most Capped Player
As already documented Rani Rampal grappled with a protracted hamstring injury after the Indian eves' pugnacious fourth-place finish at the 2021 Tokyo Olympics, and had to miss several tournaments such as the Asian Champions Trophy, Asia Cup, a large chunk of the 2021-22 FIH Pro league, World Cup, and the Commonwealth Games. Her continued international absence led all and sundry to believe that she is out of the national fold on injury grounds – the general line of thought was that the striker was in 'rehab' or not match-fit, of course it was not helped by the lack of transparency on the player's status.
Read Will Rani Rampal's Blockbuster Run in 36th National Games be Enough to Stage India Comeback for FIH Women's Nations Cup?
Rani featured in a solitary FIH Pro League game (against Belgium in Antwerp in June this year – her first international match in more than ten months, which happened to be her 250th international cap. But her blockbuster run in the 36th National Games in Gujarat was a photo opportunity to deliver a telling statement – she not only captained Haryana women to the national crown but also showing her famish for scoring goals – slamming 18 goals in 6 games, including two hat-tricks against Odisha and Jharkhand in the semifinals.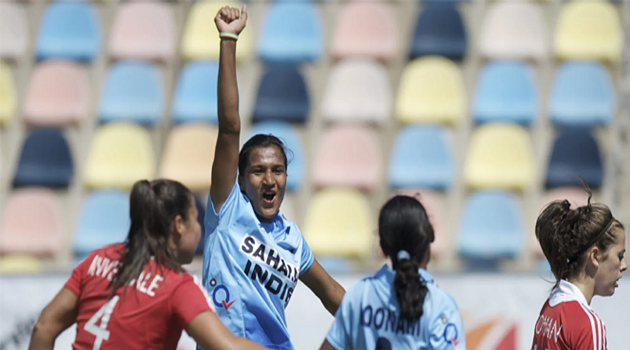 Read Harmanpreet Singh Poised to Become India's Top Men's Hockey Goal-Scorer
It does appear that Rani is not 'wanted' in the Indian side – all her dollops of international experirnce and skills appears to have little relevance for coach Janneke Schopman, who has cut a disappointing figure with her handling of the celebrated striker. She clearly owes Indian hockey fans an explanation as to why Rani is not in the Indian side for the FIH Nations Cup – she should spell out whether the Indian eves are looking beyond 'Rani'. Or she is running out of alibis to spell out Rani's absence from the team, especially after her magnificent showing in the 36th National Games. If there are issues around Rani besides performance, the coach can be transparent about it and the studied silence on Rani's absence from the Indian team has been a tough pill to swallow.
Read Women's Hockey Top Goal-Scorers of 2022
The Indian women's hockey team can only flourish with an in-form and fully-fit Rani – the treatment meted out to India's most experienced forward hasn't been taken kindly at all by the hockey fraternity.