Final Finish of Indian Men's Team Forwards Leave a Lot to be Desired!
The Indian men's hockey team are on top of the tree in the FIH Pro League with 27 points from 12 games – their performance have indeed raised the visions of them winning this high-profile FIH Tourney. Having said that, let's not forget that the Graham Ried-coached side have four tough away games against Netherlands and Belgium to play – interestingly the Netherlands and Belgium have played only six games so far and can very much break into the top three and play a spoiler to the Indians hopes of clinching the Pro League. For that matter the likes of Argentina and Germany can also be strong contenders if they hit a rich vein of form in their remaining matches.
Eight wins from twelve matches would obviously indicate that all is hunky-dory with the Blueshirts. But there is a saying that the biggest room in the world is the room for improvement and Indians would do well to take this dictum seriously. Of course, the Amit Rohidas-captained side have ticked many boxes in the Pro League campaign so far but there are still some unticked boxes as well – the most glaring being our forwards missing a plethora of scoring chances. India have scored 54 goals in 12 games and 25 of them have scored from penalty corners with Harmanpreet Singh standing tall as the top goal-scorer of the FIH Pro League with 16 goals.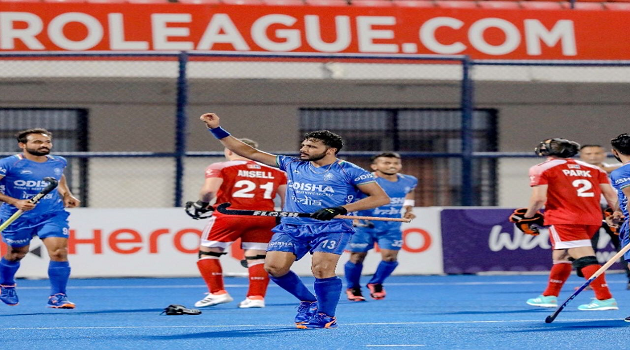 Coach Graham Reid has tried out as many eight forwards in Akashdeep Singh, Lalit Kumar Upadhay, Mandeep Singh, Shilanand Lakra, Dilpreet Singh, Sukhjeet Singh, Abhishek, Gurusahibjit Singh and all of them would need to do some soul-searching about how they have been appalling with their final finish. A deep dive into the tournament statistics would only underpin the Indian profligacy. India have scored 54 goals, from 12 games but one cannot overlook the fact that the Blushirts had a whopping 129 shots at goal across all nations in 12 games – what's more striking is that the Indian forwardline was able to generate a massive 314 circle penetrations across all games -so that's 129 shots at goal from 314 circle penetrations, resulting in only 54 goals. 54 goals from 314 circle penetrations defintely say a lot about how our forwards have been reckless and disappointing. Clearly, the overdependence on shorties for goals was amply evident in the Pro League as our forwards' finishing was far from clinical. As many as 25 goals have been scored from PC routines.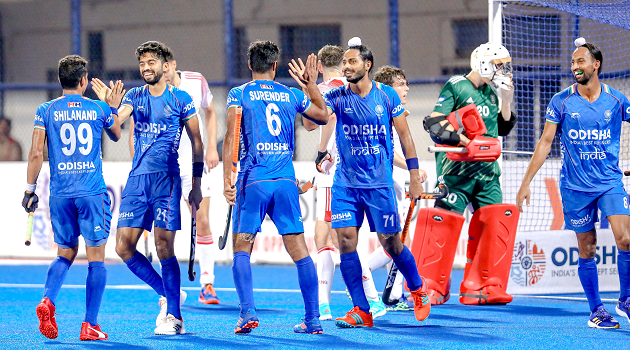 Take a look at India's first leg tie against South Africa – yes, India thumped South Africa 10-1 and walk off the pitch proudly with a big win but what cannot be overlooked is that they created 34 circle penetrations in that game. Against a not-so-formidable side as South Africa not being able to make the most of our overall dominance tell a story about how we squandered chances. Similarily, India whipped France 5-0 in their Pro League opener but it was the same game where they generated 34 circle penetrations.
India's thrilling 5-4 first leg win over Spain gave their fans a lot of joy as it came on the back of a final-minute goal by Harmanpreet Singh, but amidst the brouhaha of that win what went unnoticed was they the team could only five times from 34 circle penetrations. The objective is not to sound critical of the Indian forwardline but send out a message that the Graham Reid-coached side must pull up their socks and stop being 'casual' and stay more focussed whenever they are raiding the opposition territory. The need of the hour for our forwards is to be more clinical in the opposition 'D'.
The upcoming Pro League games against Belgium and the Netherlands won't be a piece of cake and Indian forwards cannot afford to fritter away scoring chances because top teams can make you pay heavily for that and who knows that could be the difference between India winning the Pro League or faltering at the doorstep of the crown.
Statistical Look at the Indian Men Team's Pro League Journey
Circle Penetrations
Shots At Goal
Result
1st Leg Vs France 34
2nd Leg Vs France 29
22
12
India won 5-0
India lost 2-5
1st Leg Vs South Africa 38
2nd Leg Vs South Africa 34
20
16
India won 10-1
India won 10-1
1st Leg Vs Spain 34
2nd Leg Vs Spain 22
10
8
India won 5-4
India lost 3-5
1st Leg Vs Argentina 16
2nd Leg Vs Argentina 14
4
5
India lost shootout 2-3 (2-2)
India won 4-3
1st Leg Vs England 16
2nd Leg Vs England 24
8
10
India won shootout 3-2 (3-3)
India won 4-3
1st Leg Vs Germany 29
2nd Leg Vs Germany 24
8
6
India won 3-0
India won 3-1
Total Circle
Penetrations: 314
Total Shots at Goal: 129
Total Goals Scored: 54