Army XI: Raising the Performance Bar
Army XI did not have the best of starts to their domestic hockey campaign when domestic hockey action resumed late last year after a Covid-19-induced break. The Armymen threw in all their might in their opening domestic tourney – 38th Surjit Hockey Tournament – at Jallandhar where they lost to Punjab Police by a solitary goal and was embroiled in a 3-3 draw against RCF, Kapurthala – these narrow losses closed their semifinal door in th tournament. Army XI had a mixed bag at the 57th Senior Nehru Hockey Tournament at Hyderabad – pitted in Pool A, the Armymen eked out a hard-fought 1-1 draw against Punjab National Bank but looked less competitive, going down 1-4 to Indian Oil in their next game. Army XI was nosed out 2-3 by South Central Railway and bowed out of the tournament in the quarterfinal league stage.
Read Railways Rally to Win Obaidullah Khan Heritage Cup
Coached by CB Devdas, Army XI turned over a new leaf at the recently-held Obaidullah Khan Heritage Cup – in fact, they surprised many by marching into the final of the recently-held Obaidullah Khan Heritage Cup at Bhopal, where they took an early lead only to lose 1-2 to Railway Sports Promotion Board. The runners-up finish is surely a big performance leap for Army XI, who despite all the talents they have at their disposal, was disappointing in the 38th Surjit Hockey and 57th Senior Nehru Hockey Tournaments. "We have a good and talented team and reaching the final of the Obaidullah Khan Heritage Cup is a huge confidence-booster for the Army XI team. We gave our best shot in the final and even scored an early goal, but Railways are a strong side and they mounted a good comeback to beat us in the final," says Army XI coach CB Devdas in an exclusive interview to Hockey Passion.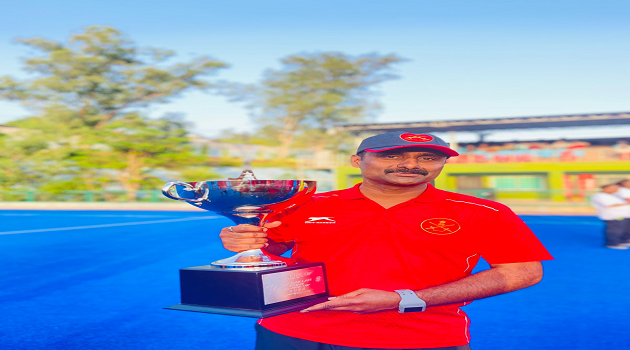 Read Obaidullah Khan Heritage Cup: Railways Outduel Indian Oil in Shootout, Face Army XI in Final
The 48-year-old former Army forward, whose playing days spanned between 1994 and 2004, is chuffed with the way his team shaped up in the Obaidullah Khan Heritage Cup. "We could not reach the semifinals of the Surjit and Nehru Hockey tourneys and some narrow losses did us in. The final appearance in the Obaidullah Khan Heritage Cup will instill a lot of self-belief in the team," he quips.
Read Stats Corner: Obaidullah Khan Heritage Cup
Army XI have former internationl goalkeeper Akash Chikte as well as current national team goalkeeper Suraj Karkera. But one player that has caught everyone's attention is their drag-flicking forward Harman Singh, who was the joint top goal-scorer along side Talwinder Singh and Joginder Singh at the Obaidullah Khan Heritage Cup. "Harman is improving in leaps and bounds. He is a great option for us. Harman scored a hat-trick against RCF, Kapurthala at the Surjit Hockey Tourney and was at his scoring best at the Obaidullah Khan Heritage Cup," he concludes.