Indian Coaches in Men's Hockey World Cups
As many as 14 coaches have taken the responsibility of training the Indian men's hockey team across World Cups. At the inaugural 1971 Barcelona World Cup, Balbir Singh Senior coached the Indian men's team. Former Indian centre-half and two-time Olympian Harmik Singh – the elder brother of World-Cupper and Olympian forward Ajit Singh – is the one among four Indians to assume this role twice – first at the 1982 Bombay World Cup and 1986 London World Cup.
Former celebrated fullback Randhir Singh Gentle coached the national team at the 1973 World Cup in Amstelveen as well as the 1978 World Cup in Buenos Aires. Midfielder Vasudevan Bhaskaran coached the Indian team at the Utrecht 1998 and Monchengladbach 2006 World Cups, while Cedric D'Souza (and CR Kumar in the latter part of the tournament) coached the national men's team at the Sydney 1994 and Kuala Lumpur 2002 World Cups.
Spaniard Jose Brasa became the first foreign coach of the Indian men's team at the 2010 New Delhi World Cup and subsequently Australian Terry Walsh took charge of the team at the 2014 World Cup at The Hague.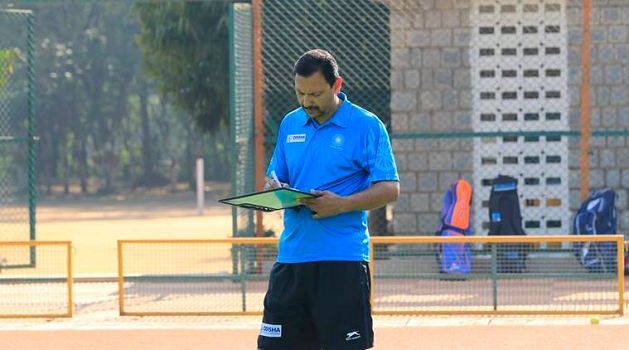 | | |
| --- | --- |
| World Cup Edition/Venue | Indian Coach |
| 1971 World Cup Barcelona | Balbir Singh Senior |
| 1973 World Cup Amstelveen | Randhir Singh Gentle |
| 1975 World Cup Kuala Lumpur | Gurcharan Singh Bodhi |
| 1978 World Cup Buenos Aires | Randhir Singh Gentle |
| 1982 World Cup Bombay | Harmik Singh |
| 1986 World Cup London | Harmik Singh |
| 1990 World Cup Lahore | MP Ganesh |
| 1994 World Cup Sydney | Cedric D'Souza |
| 1998 World Cup Utrecht | Vasudevan Bhaskaran |
| 2022 World Cup Kuala Lumpur | Cedric D'Souza & CR Kumar |
| 2006 World Cup Mönchengladbach | Vasudevan Bhaskaran |
| 2010 World Cup New Delhi | Jose Brasa |
| 2014 World Cup The Hague | Terry Walsh |
| 2018 World Cup Bhubaneshwar | Harendra Singh |