Indian Oil Halt Railways' Title-Winning Run, Win 6th Nehru Hockey Crown
Indian Oil's start to the domestic hockey campaign wasn't quite on desired lines as they made a rather surprising quarterfinal exit from the 38th Surjit Hockey Tournament at Jallandhar – of course, they improved in leaps and bounds and reached the final of the 31st Lal Bahadur Shastri Hockey Tourney in New Delhi, but they played insipid hockey in the final and went down 0-3 to Railway Sports Promotion Board (RSPB).
Read Title Sponsors Gooncha Group Leaving No Stone Unturned to Make 57th Senior Nehru Hockey Tourney a Big Success
At the 57th Gooncha Senior Nehru Hockey Tournament, Indian Oil dished out the brand of hockey they are known for, sitting pretty with a 2-0 lead going into the final quarter before RSPN fought back with two quick goals from Pardeep Singh and Joginder Singh to push the contest into a shootout.
Read Senior Nehru Hockey Tournament – All Winners
For the second consecutive match, Pankaj Rajak did the star turn for the oilmen, effecting two saves helping his side overcome the formidable Railway outfit 4-2 in the shootout to win by an overall 6-4 scoreline. Ajmer Singh and Ajay Yadav missed their shootout opportunities, which proved costly even as Pardeep Singh and Seshe Gowda converted. Indian Oil converted all four opportunities – Angadbir Singh, Talwinder Singh, Rahill and Vikramjeet Singh triggering celebrations in the oilmen camp.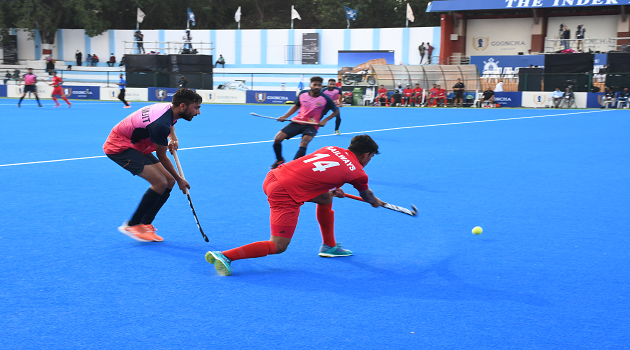 Read Rich Legacy of Senior Nehru Hockey Tournament
This is the sixth time Indian Oil have won the Senior Nehru Hockey Tourney – they had earlier won it in 2014, 2012, 2009, 2005, and 2000 – in 2009 they were declared Joint Winners alongside Namdhari XI. India Oil's glory halted Railway's bid to make it a hat-trick of title wins having won the 38th Surjit Hockey Tournament and the 31st Lal Bahadur Shastri Hockey Tourney.