'Ball Speed and Scoring Deflection Goals are Forward Mumtaz Khan's Forte'
The forwardline of the Indian women's hockey team is awash with excited talents with the likes of Deepika and Sangita Kumar having recently made their senior international debut during the ongoing FIH Pro League. Another talented youngster, who has caught the attention of all and sundry with an eye-popping performance in the 9th Junior Women's World Cup in South Africa is Mumtaz Khan. The 19-year-old Uttar Pradesh girl left no one in doubt that she is a great striker option for the senior women's team after her eight-goal blitz proved to be a big factor in India achieving a fourth-place finish in Potchefstroom.
Read When Ajinder Kaur-captained Indian eves fell short at the doorstep of a medal at the 1974 World Cup
Mumtaz literally scored in every match of the 9th Junior Women's World Cup and was a catalyst in Indian junior eves giving a good account of themeselves in the marquee event. The precocious talents of Mumtaz Khan was first noticed by Lucknow Sports Hostel coach Neelam Siddique, who is obviously on cloud nine with the way her ward has made it big on the international stage. "Mumtaz came across as someone who is a special talent and one who can go places. I first saw her at the Lucknow Sports Hostel in 2014 when she was only 13 and the first thing I noticed was her impressive ball speed that came naturally to her. Ball speed in hockey is a great asset to have and Mumtaz appeared to have that in abundance. She had the junoon to excel and that really helped," says Siddique in an exclusive chat with Hockey Passion.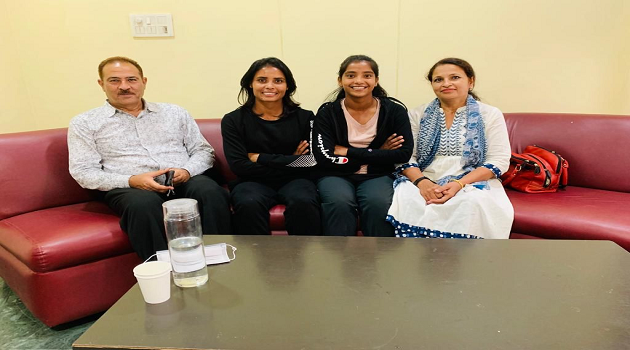 Read Former Hockey Stalwart Gurbux Singh Recounts India Winning the 1962 Ahmedabad Invitational Tournament
Siddique, considered a reputed women's hockey coach in Uttar Pradesh, was impressed with the grasping power of Mumtaz. "She is a quick learner. Usually, the grasping power of girls is slow as compared to boys but Mumtaz seemed to exude the toughness and attributes of boys," she says.
Mumtaz's childhood coach recalls an interesting incident of the 2015 National Sub-Junior Championship at Rajnandgaon. "I spent two years with Mumtaz before she was called for the national sub-junior camp in 2015. At the 2015 National Sub-Junior Championship, she sustained an injury below her jaw in Uttar Pradesh's second match, which required a few stitches. We were worried about her injury but Mumtaz was keen to come back to the pitch after getting the stitches done as she kept saying 'I want to go out and help my team win'. She has a fierce resolve to win at all times – we somehow stopped her at the team dugout," she quips with a grin.
Read Stalwart Eliza Nelson Recounts How India Nearly Missed Out on Podium Finish at 1980 Moscow Olympics
Mumtaz's standout performance in the 9th Junior Women's World Cup was there for all to see – even the Netherlands' coach spoke highly of Mumtaz after the match. "The Dutch coach Dave Smolenaars told the Indian coach Eric Wonink that Mumtaz really gave a lot of stress to their defence in the semifinal match. The way she built pressure in the Dutch defence was uncomforting for their opponents, which speaks volumes of Mumtaz's international reputation," gushes Siddique.
Read When Ajit Singh Scored the Fastest Olympic Goal at Montreal in 1976
And the one thing that Siddique enjoys the most among a host of others in her ward is her abilty to score deflection goals. "She has this knack of scoring deflection goals – the way she manages to deflect powerful crosses and slap passes is very impressive."